We're beyond excited today to announce the first worn&wound watch collaboration. We teamed up with the guys over at AVI-8 to create something unique and special that we're certain w&w readers will enjoy. Made by AVI-8 and designed by us, the WANDW1 was inspired by military watches, pilots and fields, from the mid-twentieth century. It's a mix of elements from some of our favorite classic designs, with a few twists to make it a w&w original, all while maintaining high legibility and style. We also made sure it was packed with the features we personally would want: domed sapphire, a Miyota 8245 automatic movement, bright C3 lume, a selection of straps and a custom carrying case.

Features
Case: Two-tone, black PVD/brushed steel
Movement: Miyota 8245 Automatic
Dial: Matte Black
Lume: C3 SuperLuminova
Lens: Domed Sapphire crystal
Straps: 2 x nylon Mil-Strap, 1 x w&w Olive Model 2
Water Res.: 50m
Dimensions: 42 x 48 mm
Thickness: 13.5 mm
Lug Width: 22 mm
Crown: 4 x 6 mm
Case: Padded Cordura Watch Wallet
Warranty: 2 years through AVI-8
Price: $399 (free shipping within US)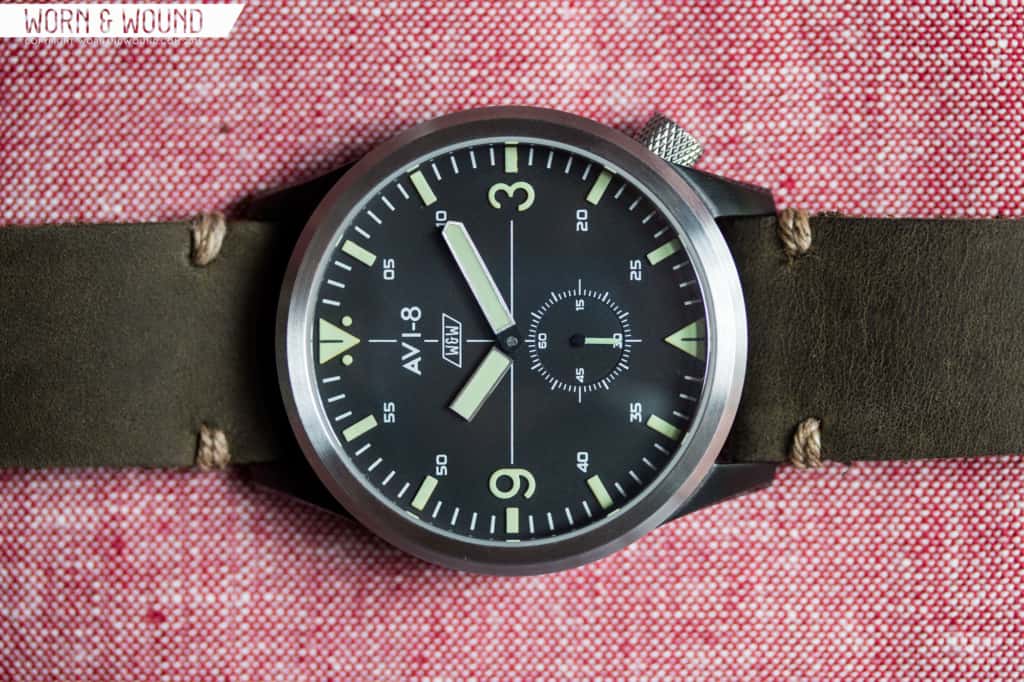 Case
We started with the Flyboy case, as it had a rugged, but clean design with nicely detailed lugs and comfortable proportions. At 42 x 48 x 13.5mm (to the top of the domed sapphire) it's neither too wide nor too long and gives ample dial real estate. We took the mid-case, brushed it and coated in PVD, making it wear a bit smaller, and look a bit stealthier. We then left the bezel brushed steel, giving a bold border to the dial, and adding a strong circular outline, for a bit of an aviation instrument look.
Because of the sub-dial arrangement of the Miyota 8245, we cocked the crown to just past 4, and gave it a simple, but easy to grasp knurled finished. It measures 4x6mm and is a straight push/pull cylinder with AVI-8's subtle Rondel logo on the end: nothing flashy. The angle also guarantees that the crown wont dig into your wrist.
For the caseback, we went with a display with a thick steel border. Around the window we put general pertinent information, presented in some stylized etching, as well as AVI-8's logo. On the display window, we proudly have our w&w diamond logo electroplated dead-center in a mirror finish. Yeah, it's cool looking. Behind our logo you get a full view of the 21-jewel Miyota 8245 automatic movement inside. The 8245 is a utilitarian caliber with some light cote de Geneve on the winding plate and balance cock, as well as a skeletonized rotor. What it lacks in artistry it makes up for in a certain rugged appeal that stays true to the watch's character.
Dial and Hands
For the dial, we wanted to make something that spoke to some of our favorite military and tool watches. It's largely a pilot type, but with a hint of field and aviation-instrument as well, stylized to please our eyes. The surface is matte black, for maximum contrast. Our primary index consists of a variety of applied markers for balance and legibility, all in pale green C3. At 12 and 6 are triangles, with dots flanking the marker at 12 for easy identification, giving an immediate nod to fliegers as well as an aggressive edge. At 3 and 9 are large numerals and small rectangles, balancing out the triangles and increasing at-a-glance legibility. All other hours are marked with larger rectangles. In the dark, this index lights up thanks to the C3 lume.
Between the hour markers are white lines for the individual minutes. Complimenting these marks is a minute index on the inside of the lumed rectangles with double-digit numerals for increased legibility, once again. At 6 is a sub-seconds dial, referring to an earlier age of the military watch. We went with an inverted index, markers pointing out, encircling a slightly indented area with numerals every 15 seconds. This makes the sub-dial clean, with a modern twist. To tie the dial together, we added thin white crosshairs which add to the sense of symmetry.
For our hour and minute hands, we went with something bold and chunky, speaking to both vintage and more modern designs. The minute hand is a wide straight sword that just grazes the minute numeral index. The hour hand is short and blocky, easily distinguished from the minutes. Both have thin brushed steel edges with plenty of bright C3 lume. The seconds hand is then a small, full lumed sword with a pointed tip. It gets the job done without distracting.
Straps and Accessories
We're big fans of swapping straps on our watches, tailoring the watch to our style and outfits, so we wanted to make sure to supply a nice selection with the WANDW1. To start, you have 2 nylon Mil-Straps manufactured by AVI-8 to our exact specifications. We like our Mil-Straps properly long, allowing for ample material to pull back through, with the right amount of distance between rings as well. For the first color, we chose a slightly acidic olive green, for an energetic, yet appropriate pairing that brings out the C3. The second is a cool, pale grey with the slightest hint of green, which really makes the case pop. Both are fitted with brushed steel hardware, including a dual signed buckle.
Additionally, each watch will come with one of our American-made, Olive Horween Model 2 straps. We went with the Olive for obvious reasons, the least of which is that the drab green leather and natural waxed thread perfectly accentuate the two-tone case and C3 lume. With the Mil-Straps you have a great casual, warm weather option that adds to the military and aggressive feel of the watch. With the leather you have a more a vintage, stylized look, one to break out in the fall with your favorite worn in jeans and leather boots. Oh yeah, and in order to help you swap these straps in and out, each watch will include on of our trusty worn&wound strap changing tools.
Lastly, to keep the kit together and safe, we've created a custom watch wallet. Constructed of Olive Cordura nylon, brown leather trim, this zip-up wallet can hold your watch in an internal pocket as well as the additional straps and strap changing tool. The wallet is lined with a thick, semi-rigid foam to protect your watch, whether you are throwing it in your bag, or keeping it in a drawer at home.
Available Now
And that's the WANDW1. We had a lot of fun working on this with AVI-8, and hope you all really like it. It's been an enlightening journey over the last year, starting with some casual back and forth emails, then playing with watches, then submitting designs, then sampling, approving, producing, etc… Needless to say, we've been waiting on pins and needles for this day, and now that it's here we are incredibly happy with what we made.
The AVI-8 x W&W: WANDW1 is available now, exclusively at shop.wornandwound.com. This is a limited edition, with only 150 to be made, so get yours while supplies last. The price for the whole package is $399, which includes free shipping within the US. Watches will be available in batches, so if you see 'sold out' enter your e-mail to find out when they are back in.