One fine Saturday afternoon in '92, when cell phones were as large as size 8.5 wingtips, I was walking down the avenue window shopping at the many fine watch stores. This was, and still is, one of my passions – a chance to gaze at all the wonderful offerings, swoon over all the grails and must-haves, and exercise my will power. Fortunately, on most occasions, my will power has usually exhibited super human strength.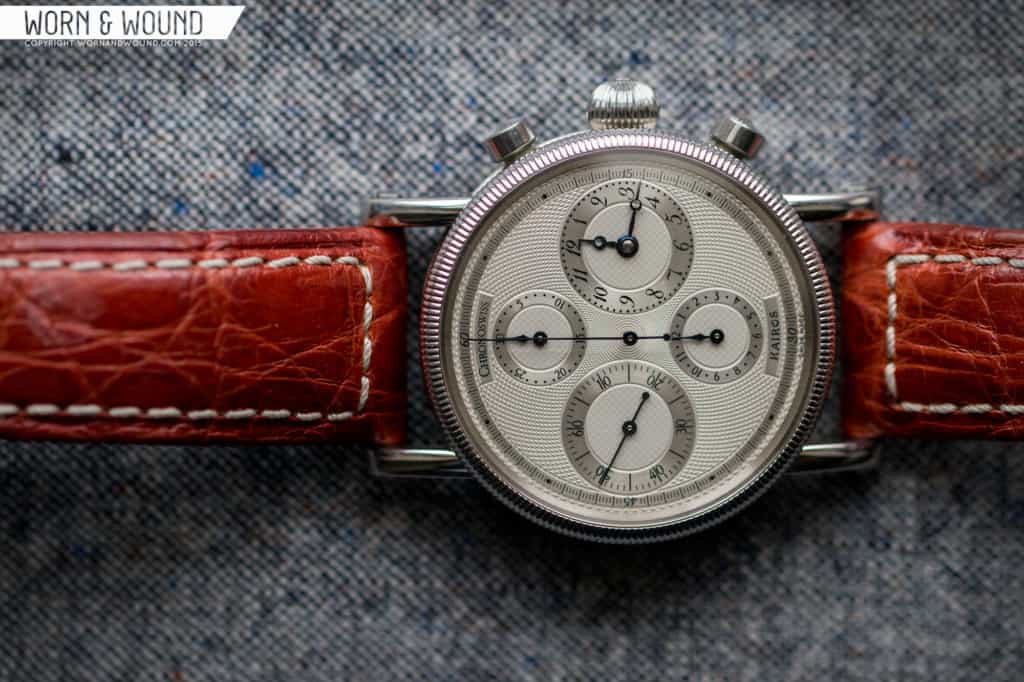 But not that Saturday. After staring at many displays of everything from ho-hum to extraordinary timepieces, it happened. I saw IT! A watch unlike anything I had ever seen. A watch so unique and magnificent that I knew my will power was quickly being rendered useless. Demolished. And all that separated me from this alluring horological creature was a pane of grease-smeared glass. Evidently, others as hopelessly smitten had pressed their foreheads against this window, eyes bulging, mouths agape. (I think you get the point: I sort of liked the thing.)
To make a long, tedious story short, I ran panting into the store, and the sales person who immediately approached me probably thought I was having a coronary event or needed a men's room badly. Catching my breath, I blurted out, "Ihavetoseeawatchinyourwindow!" In a moment, I was holding it. Fondling it. Then she strapped it on my wrist. Maybe I was hearing things, but I could have sworn she said, "Do you take this watch to be……….." I stuttered, "I do!" Seeing it was a Chronoswiss, and knowing that they specialized in high-end mechanicals, I figured the price would be a deal breaker. But it was surprisingly reasonable, all things considered. So out came my wallet, off came my Submariner, and I began a relationship that has blossomed over the years.
During the 23 years I've owned this watch, I've acquired many more, but none, except my Tourby, have given me as much pleasure. And none have attracted nearly as much attention. I can't tell you how many watch freaks my Chronoswiss Kairos* has introduced me to. But, the strange thing is, almost no one I show it to has ever seen or heard of it before. It's like the damn thing has never existed. Oh well…….
Now, take a close look at the accompanying photograph. Obviously, what first catches your attention is the unique layout of the sterling silver dial. The larger time and seconds registers are in perfect harmony with the 30 minute and 12 hour registers. All are very easy to read due to the total absence of confusion. This is really a serious chronograph that just happens to also tell time. Thankfully, they didn't include the date because that element would have destroyed the symmetry.
Upon closer inspection, you'll notice the two beautiful guilloche patterns that occupy each register and the overall dial. This is all complemented by the classically inspired blue steel hands, especially the tiny Breguet hands in the time register. Even the center seconds hand swoops down at its tip. The attention to detail, every detail, is superb. In fact, every millimeter of it is covered with great little details. The crown is a large, easily graspable onion style; the chronograph buttons are machined on top with a non-slip surface; the coin edge bezel adds a bit of zing to the dial; the sapphire crystal is gently domed, and, get this, the mineral crystal on the back is also gently domed. So, this gives an enticing new spin to the term, double-domed.
When I say the watch is timeless, there's no pun intended. There's nothing early 90's about it. The design is just as new and relevant today as it was back then. I guess you could say the same thing about many true classics.
The heart that beats within is a tastefully decorated ETA 7750 base, a movement most of us know well and respect. "Connoisseurs," on the other hand, tend to scoff at it and place labels on it such as "garden-variety." But even they can't deny its utter reliability and durability. It has proudly stood the test of time since its debut on July 1, 1974.
When you look at the watch, you'd swear it was 40 or even 42mm. But it's actually 38mm: my ideal size. And thanks to its moderate height of 11mm and down-slanting lugs, it fits close and comfortably to the wrist and doesn't snag on shirt cuffs. The lugs, with their convenient screw bars, accept 20mm straps, which may be the most plentiful on the market. The watch came with a heavily padded black ostrich strap that I wore out in about four years. Since then, I've tried a variety of straps, always looking for the perfect one. Today, my Chronoswiss Kairos wears a simple crocodile strap from Panatime. The only problem I have with it is the white stitching. In my opinion, it doesn't really go. But, I do have to find at least one thing to moan about. After all, I am the Curmudgeon.
*For the few of you who might be wondering about the definition of "Kairos," here's a quote from the 1992 Chronoswiss catalog: "Space and matter are a function of the orderly continuum of time, personalized by Chronos; it cannot be influenced by anything or anybody. But for highly private decisions another factor of time is at least equally important: Not merely the objective measurement of time, but above all the subjective experience of time, using the favorable moment, can be decisive for the success or failure of an undertaking and its result. The significant moment which, according to the ancient Greeks, a man must utilize rationally for it decides his fate, is Kairos, the subjective element of time."