Most people will never dive down 300m under the ocean. Heck, many of us rarely even go for a swim in your average pool. But that doesn't make the allure of really over built, tool dive watches with absurd depth ratings any less powerful. There is something very appealing about knowing these watches will far exceed our daily needs, and often our most extreme needs. That they are built to survive in climates that our bodies cannot without special equipment if at all. Climates so hostile, few have ever been to them. By the nature of what they have to do, these watches have been aggressively engineered, some with patented tech, using the best gaskets, thick crystals, high quality steels, and are then manufactured with exacting quality. After all, if a brand claims they can go down to the deepest depths, they better live up to it. The watch designs then also take on a life of their own. These are generally large watches, with aggressive lines and colors, thick cases mounted with sapphires thicker than many watches. They aren't for the faint of heart.
So, today we're taking a look at the Beasts of the Deep: 15 Watches that go 1000m and beyond. Not because we plan on going down there, but because we get a kick out of knowing our watches could. Given that these are fairly specialized and complicated watches, their prices can get high quickly. As per usual, we kept an eye on their price tags, throwing in a few good values along they way, but made allowances for some pricier models too.
*We, like you, have to take their word for it that these watches live up to the water resistances they claim. Some have probably only been tested in a lab setting, which get you a number, but in an ideal circumstance.

When you're way down below sea level where there is little to no light, you want to make a good impression, so having a really stylish watch will help you out. All kidding aside, the Squale 101 is a gorgeous watch out of water that you can take to deep depths if needed. The design is a carry over from Squale's watches from the 60's, which is clear in the barrel shape and applied markers. The coolest throwback detail though is the bakelite bezel, which has a look you don't see anymore. It also works by pushing it down and turning it, a Squale innovation back in the day. Swiss-made, ETA powered, not bad for $1,500.
Here's a scenario: you're 1000 meters deep and there is a giant sea monster guarding a sunken treasure you seek to plunder. How are you going to time how long it takes to make its rounds? With the Sinn U1000 of course. You might be thinking… does this guy know anything? You can't start a chronograph under water let alone at 1000m! Well, you can with the Sinn U1000, because they don't mess around at Sinn. Apart from that, this watch is also made out of Tegimented (hardened to 1200 vickers) German Submarine steel, has their Ar dehumidifying technology, a captive safety bezel (push down and turn) and is powered by a modified Top-grade Valjoux 7750, called the SZ02, which converts the standard 30-minute counter to a much more useful 60. Yeah, this is beast in many ways. This German-made masterpiece starts at $4,590.
We just gave you a run down on why you need a Tuna in your life earlier this week, so we had to mention them here. These shrouded beauties are functional, iconic, massive and yet oddly charming. The "Emperor" packs Seikos automatic 8L35 movement, which is derived from their Grand Seiko line, as well as a 1000m WR. Coming in around $2,200, it's pricier than some of it's quartz cousins, but has the auto movement and a higher WR. oh, and I'm re-posting Seiko's video below of them taking Tuna's way deeper than their dials say they can go, just because.
Any watch that is built to the specifications of Search and Rescue teams is good enough for me. What makes the Mühle SAR so interesting is that it's oddly understated. It's designed for a purpose, made to be tough-as-nails, has a 1000M WR, but doesn't flaunt it at all. It's a piece of equipment, pure and simple. Compared to other watches in this guide, it's also small at 42 x 49 x 13.5mm, while still packing a 4mm thick sapphire. It's also the only watch on this list that lacks a rotating bezel, instead featuring a rubber bumper for shock absorption. I've owned one of these before, and they are very cool. You'll never get asked what it is, but you know it's something special. $2,699 with bracelet.
New for 2015, Oris teamed up with the US Marine Corps Force Reconnaissance (Force Recon) to develop perhaps their most aggressive and tactical watch to date. They started by taking their 49mm titanium pro-diver case and coated it in black DLC all around. They matched that with a blacked out matt ceramic bezel. If you're unfamiliar with these watches, the feature their very cool Rotation Safety System, where a ring around the bezel is lifted when the bezel needs to turn, then locked down sealing it in place. Then they put in a new GMT movement based on the Sellita SW 220-1 with 9 o'clock sub-seconds, which is uniquely displayed via a rotating disc under the dial. Lastly, they built these cool lug modifiers that take their integrated design, and add pass-through screw bars for use with nylon straps: cool. What you get is something tough, lightweight and stealthy. Perfect for slinking around at 1000m. These come in around $4,000.
The Old-School-Made-New Beast: Omega Plo-Prof Master Co-Axial Titanium
You know it, you love it or you hate it, but this list would be incomplete without it. Now reaching 1200m down and featuring their Master Co-Axial movements with 15,000 Gauss of anti-magnetic wonder in a titanium case… it's a very modern version of this iconic beast. Whether or not you do like the PloProf design, which has rarely been called beautiful, so much as unique, you have to appreciate it's clever. The (once) Monobloc case, brutal geometry and locking bezel sure make it stand out. Now in titanium, this watch is actually verging on comfortable. I tried it on in Basel, and yeah, it's shockingly light. It also now has a sapphire display back, as the highly anti-magnetic movement no longer needs the shielding. These start at around $12,600, perhaps making them the Day-Dream Beast.
Ever wonder what watch you'll wear if you find yourself one day in a steam-powered submarine 2000m deep in some Verne-ian nightmare world? Me too! The obvious answer is the Helson Gauge TB. With a central case made out of single piece of matte grey titanium with a front loading design and flush crown, and capped with a bronze bezel with metal rod-like markers, this watch could easily have been in the garage of a mad man. In fact, Mr. Helson is a pretty mysterious figure, so it might have. It measures 47mm in diameter with a height of 19.4mm, which includes the 4.5mm thick sapphire crystal. Oh, and to be safe, you might as well shell out the extra $200 for the Power Reserve model. $1,899
This is the beast for all your deep sea formal engagements. I have to say, the Bremont Supermarines are probably my favorite watches in Bremont's line of the Chronometers, despite them being perhaps the least talked about. They take their gorgeous case design, with a striated central chassis in black, move the crown up to 2, add in a bolted-on crown guard, and finish it off with a sapphire bezel. The dial is then a very refined take on the classic diver with a touch of early 20th century military design. Inside the movement is housed in a Faraday cage and mounted in their patented anti-shock case mount. Though this watch might be the most elegant on this list, it's a tough watch through and through. For the S2000 they increased the diameter to 45mm, making it the largest watch they offer as well. $5,900 will put this on your wrist.
Benarus is the king of affordable deep diving watches, and their Megalodon is the jewel of their line, earning it true cult status with its iconic shark-tooth dial. This ever evolving watches get updated periodically, and always sells out fast. We reviewed a dual crown version with 500m water resistance a couple of years ago and were blown away by the build quality. The 2015 model ups the ante to 2500m, featuring a 49 x 53 x 19mm case in steel or CuSn8 bronze and is powered by a Miyota 9015 movement, helping to keep the price down. The watch will be available with a variety of dial and bezel colors, letting you find the right one for your inner beast. For the first time, Benarus has gone to kickstarter to fund this watch, with prices starting at $750! They've already passed their goal by over 100% their asking price, but a few watches are still available. Act fast as the Kickstarter ends soon… Like, today-ish. These will retail for $900 after, still maintaining a good value.
Should you desire to know what it's like to submerge to a terrifying depth of 3000m while wearing a watch that nearly replicates a 60's design, Aquadive has you covered. The recently (a few years ago) revived brand has dedicated themselves to recreating the mid-century aesthetic of their classic watches, while maintaining the technical know-how that was once associated with the name. They've done some very cool things over the last couple of years including using NOS cases and movements, as well as haute 5-day movements by Vaucher, which has garnered them some well deserved attention. The Bathyscape 300 is based on the quite bizarre Model 50 from the 70's, and has the exact same case dimensions; 47mm. Yes, they made a 47mm barrel cased dive watch in the 70's: awesome. Powered by an ETA 2824-2, the 300 comes in at $2690.00
Need to get to 3000m on a budget? Deep Blue has the watch for you. The Depth Master 3000 comes in a variety of colors, and has a very modern, tool diver look. The case has interesting contours cut out from it's sides and the bezel, for something almost H.R. Geiger-esque, while the dial is pure diver. Big lumed markers, big lumed Roman sword hands and bright orange highlight make this one super legible. It's a giant, of course, coming in at 49 x 55 x 19.5mm and featuring a domed sapphire crystal and sapphire bezel. Inside you have a Miyota 9015, that like the Benarus, surely helps keep the price in check. Retail is $799, but they are often on sale for $549. That's nearly 5.5 meters per dollar!
What do you get when you take a German engineer and give him a bunch of CNCs and a lot of technical knowledge? UTS of course. Helmed by Nicolaus Spinner, UTS watches are unlike any other tool dive watches out there. You see, these technical marvels are each made by Mr. Spinner himself. He takes a block of German steel and mills out each case individually. As such, the output of the company is only 200 watches per year. Each highly sought after and coveted. The UTS4000 is their deepest diving to date reaching a remarkable 4000m. It features a unique locking bezel, a 6mm sapphire and UTS' signature hex-bolted lugs. Tying it together is perhaps the most German looking dial I've ever seen, with big block markers and double digit numerals. Don't get me wrong though, it's an awesome design I wish I had in my collection. All things considered, the watch is almost modestly sized at 45mm with a height of 17.5mm. Pricing upon request, but rumored at around 5,000 Euros.
Ever wanted to wear a watch that was designed to be mounted to a submarine some 55 years ago? Yes?! Well, you're in luck, because the German brand Helberg has made it. An homage to the Rolex Deep Sea Special, a watch that was never made or meant for public consumption, this crazy beast is available in bronze, steel or tungum (what?), has a claimed depth rating of 6000m (3000m if you want a display back) and the single greatest domed crystal of all time, giving it a height of 27.25mm. Seriously, these might be the only watch on the market with an in-house crystal ball. The case itself measures a modest 42mm wide by an expansive 57mm lug-to-lug. So, should have very wide wrists or your own Submarine, this might just be the right watch for you. Surprisingly the starting price is just over $1,200 making these oddly affordable especially since they are powered by ETA 2824-2s… and that crystal must cost like $200 if not more.
Who needs a watch when you can take an entire habit with you? The CX Swiss Military Watch 20,000ft is more than a mouthful, it's a record breaking behemoth that in 2009 set the Guiness record (not sure if it's still held) for Deepest Diving Watch, beating out the Rolex Sea Dweller Deep Sea. This thing has a monster rating of 6,000m while also having a chronograph. In fact, it's actually rated to 7,500m as there needed to be a 25% safety margin as per ISO regulations. Depth aside, it's about as tall as mountain at 28.5mm, with a diameter of 46mm, making it at least as big as a studio apartment in Brooklyn. The crystal is a massive 10mm thick, the weight of which is hopefully tempered by the titanium construction. The dial… well, let's just say it has a face only a mother could love. Beauty aside, this watch is one tough SOB, as you can see in the video below. Not only can it go down 20,000ft, they've blasted it with a firehose, shot it with a gun and even set off a stick of dynamite next to it, and it kept on ticking. Pretty impressive. These cost about $4,100 in the US.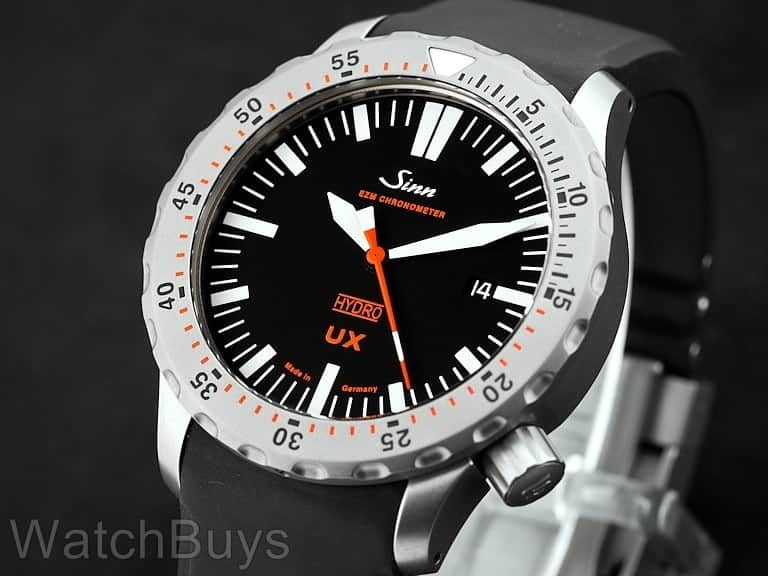 The only brand to make it to the list twice, Sinn really knows how to make a dive watch. But why include them again? Because of this quote "…water-resistant to any reachable diving depth."…But let's back track. We know Sinn is all about technology, and while many of their watches share their various techs, the UX has one other's don't: Hydro. The entire case is filled with a crystal-clear oil. Yes, that includes the movement, which in this instance is a chronometer grade ETA 955.652 quartz. So, there is no air inside rather pressure resistant fluid. This means the case is rated to 12,000m (though the movement is rated to 5,000m). But that's not all Hydro does, it also prevents the case from fogging, ever, and allows the dial to be viewable from all angles, even very oblique ones. It's almost like the dial and hands are magically projected on the crystal. The UX also features a Tegimented German Submarine case, their captive safety bezel and a surprisingly modest 44mm case with a 13.3mm height. With a starting price of $2,210, your dreams of going to the Mariana Trench are one step closer.