February 17, 2022
10 years ago, we didn't quite know what we were doing yet at Worn & Wound. We had an idea, we were motivated, but we were still feeling out exactly what our focus and style would be. So, when we stumbled across the Seiko 5 SNK pilot watches, it was a bit of luck that set us on a path that we've continued on to this day. Though we didn't know these watches were universally loved, the combination of looks, movement, and price made them an obvious choice for review on our young site. As such, the SNK803 became the second review ever published on Worn & Wound, written in our first month of operation.
Little did we know that 10 years later, Seiko would approach us with the opportunity and honor of creating a limited edition Seiko 5 Sports model. Needless to say, given the timing and the significance of the brand to our own journey, we knew the SNK models would have to serve as the source of inspiration for the limited edition. In late 2020 we made some designs based on their bezel-free 40mm case, but as luck would have it, Seiko was planning on bringing the pilot-style Seiko 5 back at the end of 2021, giving us the perfect platform to work with. Thus, the Seiko 5 Sports x Worn & Wound 10th Anniversary Limited Edition was born.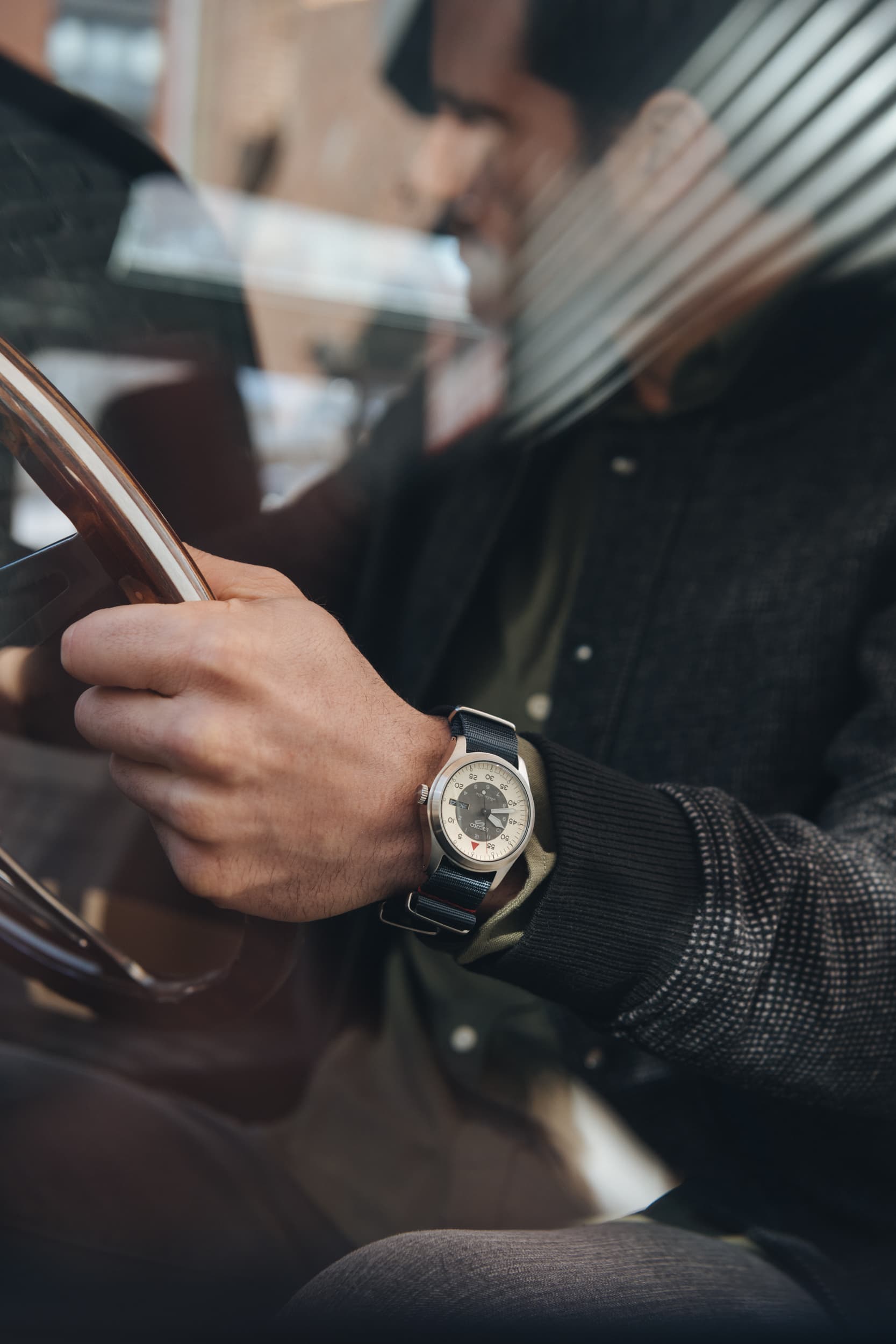 The dial design of the new Seiko 5s stays very true to the SNKs with a "navigator" layout featuring an inner 12-hour index and an outer 60-minute/second index separated by a circle. Along the very edge of the dial are tick marks with little lume dots, for a slightly vintage look, a large triangle points up at 60, and a day-date window at three. Large Roman-sword styled hands with generous lume fill point to the hour and minutes, while a stick second hand with a lumed counterweight glides around at 21,600 bph, thanks to the 4R36 automatic caliber inside.
This layout is key to what makes the watch successful, so we didn't want to alter it, but we did want to incorporate some ideas into the design. First, is that we wanted to celebrate that review from back in 2011 by utilizing a light khaki color vis-a-vis the SNK803. Still a unique look for a pilot watch, that dial color is part of what prompted its purchase all those years ago. Under the minutes/seconds index is then a pale khaki/off-white that will bring that watch to mind. The indexes are printed in black for contrast, and the triangle at 12 is rendered in dark red, for a pop.
TEN YEARS IN THE MAKING...
A watch 10 years in the making, it was inspired by the Seiko 5 SNK803, the second watch ever reviewed on Worn & Wound
The dial was split into two circles - a khaki circle with a waffle pattern, and a dark gray inner circle with a sunburst effect
The Seiko 5 Sports 39.4mm case features brushed and polished surfaces for a tough, but refined appearance
The day wheel is presented in English and Kanji
Next, we wanted to emphasize the circle that splits the dial between hours and minutes. So we went the two-tone route and contrasted the khaki with dark gray. A dial within the dial, the sharp shift in tonality allows the eye to choose what region to focus on. The hour index, as well as "automatic" script, are printed in white.
Lastly, we wanted to bring some of Seiko's awesome texture work into play. From Seiko 5 through Prospex and Presage, Seiko employs some of the most unique and dynamic dial textures on the market. Textures that can tell a story at a glance, and add an emotional value to watches that go beyond their price tags. For the limited edition, we wanted textures that were classic, handsome, and noticeable, but not distracting.
The khaki section received a "waffle" grid of fine, faceted diamonds that catch the light at every angle. A touch mid-century, it adds an unexpected dimension to this surface. To then further increase the contrast between the two sections of the dial, the gray surface has been given a metallic sheen and a slight sunburst effect. The result is an illusion of depth, as the circle appears to almost step back.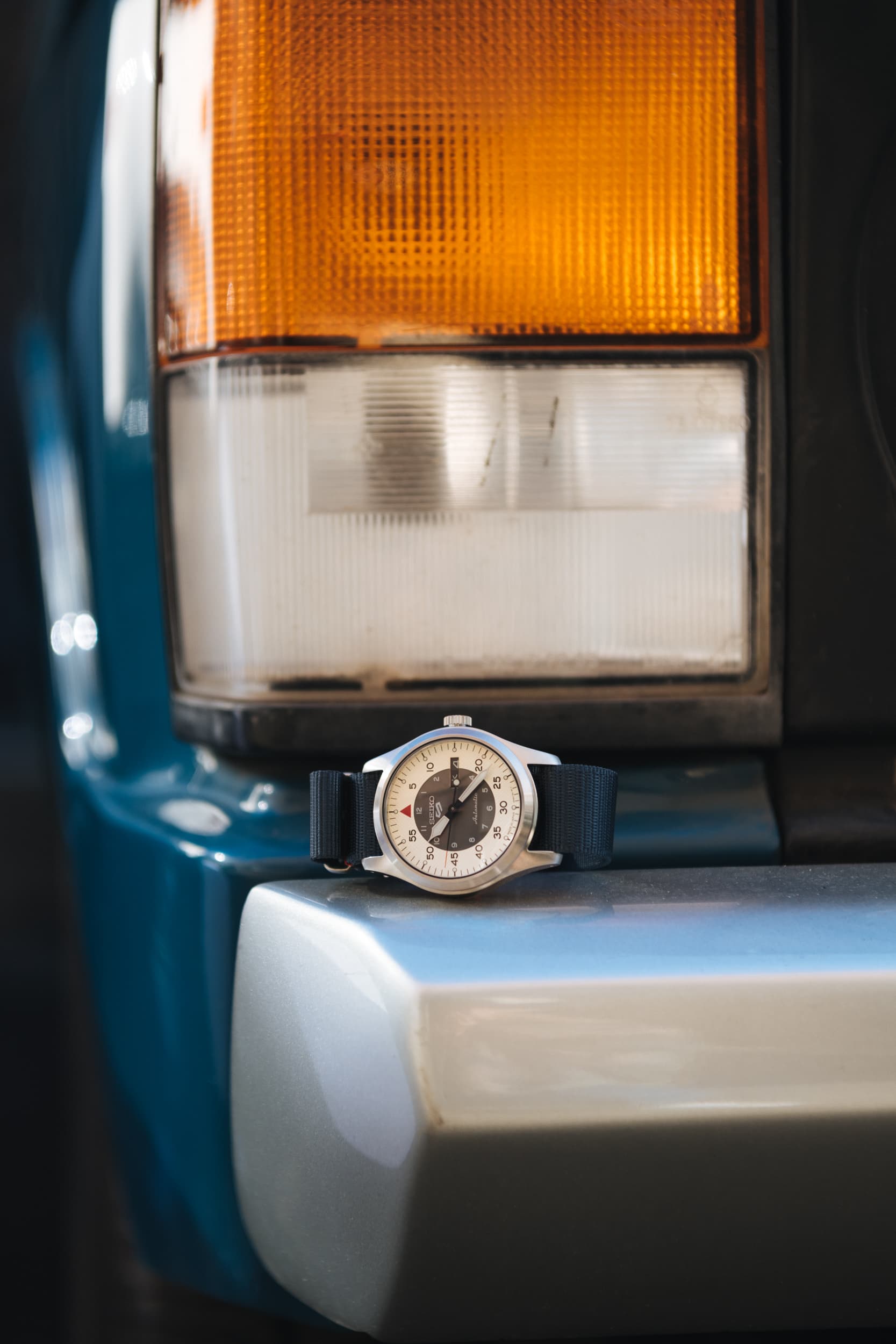 There was one last detail we wanted for the dial – or rather in the dial. The day portion of the date is English / Kanji. Set it to whichever you like, but if you've ever had a vintage or JDM Seiko, you know the Japanese date wheel adds to the charm.
The case is Seiko 5's newer 39.4mm design, which measures a comfortable 47.5mm from lug-to-lug and 13.5mm tall, including the domed Hardlex crystal. The bezel and top surfaces of the mid-case are brushed, while the sides are polished for a slightly more upscale look. The case back is the star of the show, with a display of the 4R36 movement behind glass with very special graphics.
Directly over the movement, you will find our 10th-anniversary logo in mirrored gold, while along the edge of the window it reads "Seiko 5 Sports for Worn & Wound" and "Celebrating 10 years of Worn & Wound". We couldn't be prouder to see these words displayed on a watch.
A watch isn't complete without a strap or two in this case. The Seiko 5 Sports x Worn & Wound 10th Anniversary Limited Edition comes mounted to a 20mm two-piece green nylon-textile strap with a rugged build. It's padded and features leather reinforced sizing holes as well as bright orange backing. To accompany this strap, and compliment the colors of the dial, we've also included a customized ADPT US-Made Mil-Strap in Admiralty Gray with red highlight stitching and label. Between these two straps, you have two rugged, but stylish options for any season.
We're proud of many things from over the last decade (well, closer to 11 years now) from the team we've built to the content, products, and events we've created, and this Seiko 5 limited edition serves as a reminder of the road we've traveled to get to this point. Whether you've been a fan since 2011 or this is the first time you've come across our site, we hope this watch can bring to mind your own journey in watch collecting, and, of course, bring a smile to your face.
Limited to 1,000 pieces, the Seiko 5 Sports x Worn & Wound 10th Anniversary Limited Edition is $325, and will be available at 7pm ET, February 17th, 2022 only at the Windup Watch Shop. Watches will begin shipping early March.
clothing courtesy of Taylor Stitch
vehicle and location courtesy of Brooklyn Coach Works