Since yesterday was the 4th, we figured today would be a good day to briefly talk about an American brand that once was. A brand that, though one of the original American wristwatch companies, is not often talked about: Gruen. Unlike Hamilton, Bulova, Elgin, Waltham, etc… they simply are not as popular or sought after. Gruen produced tons of watches in the 70+ years they were around, some of which are well known and renowned, such as the Curvex and Techni-Quadron models, but generally speaking they are not very collectable and information on specific models is sparse. A quick browse on Ebay and you will find that they rarely break $300, though on more curated vintage sites, such as watchestobuy.com, you will find some approaching $2,000.
The history of the brand is very interesting and for a detailed look I recommend reading this thoroughly researched on-line book by Paul Schlisser. Mr. Schlisser breaks down the story of Gruen from the arrival of Dietrich Gruen in America to the closing of their Ohio plant, Time Hill, in 1958. In the time that Gruen was around, they were a truly an innovative watch brand. They designed and manufactured many of their own movements, some of which had interesting complications, in facilities in Biel, Switzerland called the "Precision Factory" (which are now owned by Rolex, and apparently used as admin facilities). That said they were a US based company with headquarters in Columbus, Ohio, where they received the movements, and assembled them into American made cases. Their Ohio facilities were also a thing to behold, with architecture that gave it a fairy tale quality.
Unfortunately, the brand fell apart in the late 50's following the departure of the original Gruen family, scandal and financial disarray, which led to the selling of the name and closure of their Ohio offices. Under new ownership, Gruen continued producing watches until the mid 70's, with offices then in NYC. After poor management and financial instability took hold, the second wave of Gruen closed in 1976. Shockingly, the records of the brand pre-1958 were destroyed, which one could only imagine has affected the collectability now as Gruens are difficult to date and price.
Gruens now can be had for fairly cheap. Even remarkable pre-1958 examples are only a few grand, which is nothing considering their age and uniqueness. Though models from the post-Ohio days are worth very little, they are not bad watches, and are an affordable way of getting an attractive vintage piece with a Swiss mechanical movement. I happen to be lucky enough to have been given a nearly mint example from 1974, which has a distinctly mid-century design that is quite beautiful.
The watch is tiny by today's standards, but feels very well proportioned and perhaps a touch larger than it is. The gold plated case measures 33.5 x 41 x 10mm, making it by far the smallest watch I've worn, yet there is something masculine about the design that belies its size. The case has an elegant shape with thin lugs that twist ever so slightly on the inside edge. The bezel is also very thin, barely a millimeter, which transitions the case side into the large domed acrylic crystal. Without the crystal, it actually would have been an extremely thin watch, about 6mm, as the case back is totally flat, but I can't argue with a nice dome.
The dial is absolutely gorgeous. I've never been drawn to gold, but seeing this monochromatic champagne dial with gold markers in a gold case might have won me over. Like most dress watches from this era, the design is simple, minimal and refined. The hour index consists of gold applied triangular markers with numerals for 12 and 6. At 3 there is a fairly large date window (compared to the overall dial size) and at 9 is a slightly different marker, with a Dauphine shape. Running along the outer edge is a printed black index for the minutes and seconds, with cool little domed lume dots at 12, 3, 6 and 9.
Though hard to confirm, the dial reads "Gruen Precision", which did initially mean that the movement was manufactured in their "Precision" facilities in Biel. Since the watch is from the 70's, well after the Gruen's were a part of the brand, I am not sure if that is still the case. Nevertheless, a 17-jewel manual wound movement with date function that still runs very well powers the watch.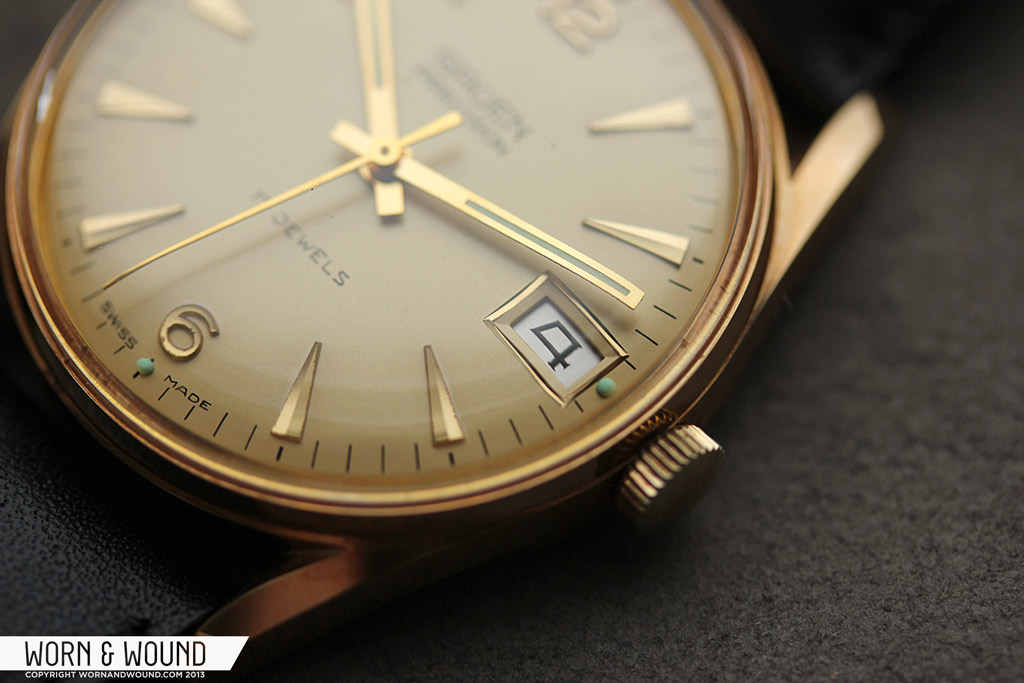 When I said this watch was mint, I really meant it. I don't think it has seen much daylight since 1974, so everything is preserved. This gives you a sense of what exactly these watches looked like when they were new, which is to say, very nice and high quality. When you look at pictures of models with heavy patina, they often look cheap, but these really were great watches in their day. On the wrist, the Gruen is an elegant dress watch with an understated presence. For a gold watch, it doesn't shout precious, and is easy to wear.
Gruen is a fascinating brand that we hope to talk about more. Their history is very rich, albeit obscure, and this article only barely scrapes the surface. Though they produced their movements in Switzerland, they were a major US brand for a long time, one that produced some pretty excellent watches. Had it not been for mismanagement and a loss of records, Gruen would likely be alongside Bulova today.
The 1974 example seen here is a good look at the second generation of Gruens that could be had for cheap. As far as affordable vintage goes, these are an interesting option for people who are looking for something simply to wear. This watch is likely not worth much, though an exact price is hard to establish. Given its condition, around $500 would be max value, though a lesser price would be likely. So, if you happen to be looking for something to scratch that vintage itch that wont break the bank, add Gruen to your searches. If you are lucky, you might find something pre-1958 that is attractive, rare and mechanically interesting.
enjoy the gallery!
by Zach Weiss