Baselworld 2019 was a memorable one for Tudor. Whereas the previous year they released the most adored watch of Basel (see our review of the Black Bay 58 here), this year they released the most controversial, the Black Bay P01. Much has been said about the polarizing P01 — too much probably — but if there was one thing that can be agreed upon, it's that the P01 stole the spotlight from Tudor's other releases. So today, I'm going to be reviewing what I think was the actual highlight from Tudor's Baselworld 2019 releases, the Black Bay Chrono S&G (steel and gold).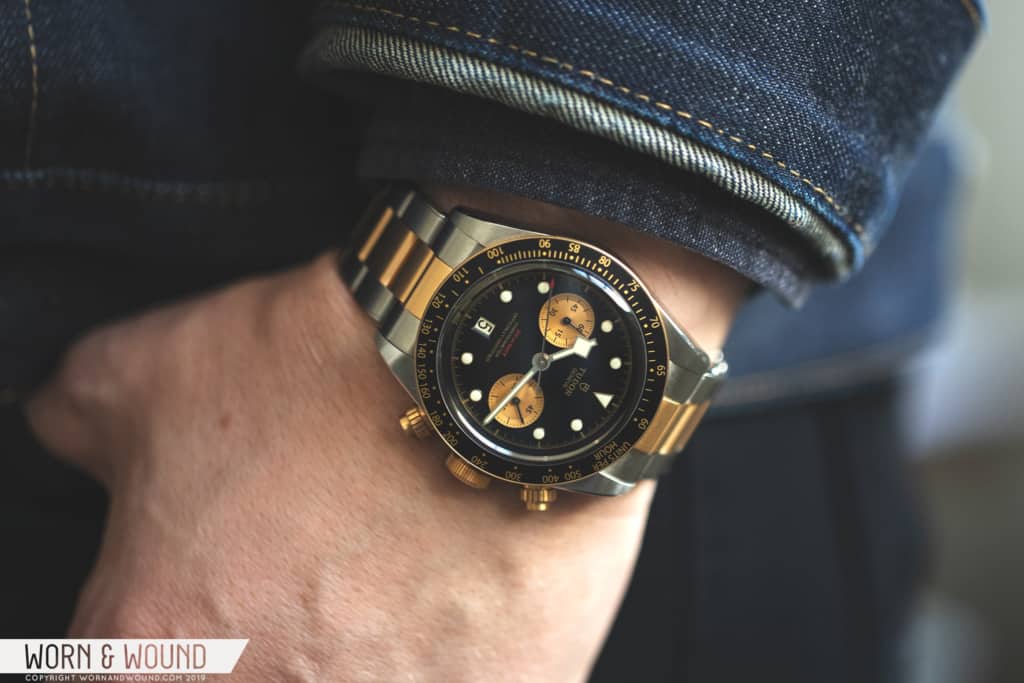 In 2017, Tudor first released the Black Bay Chrono. It was met with a mixed response. On one hand, Tudor used the watch as an avenue to debut their new chronograph movement, the MT5813, which was made in collaboration with Breitling as part of a technology exchange between the two brands. This was a surprise, but an exciting one as the caliber, which I'll get more into later, has a great feature set. On the other hand, the watch mixes the diver DNA of the Black Bay with a fixed tachy bezel, resulting in a watch with an odd identity and one that didn't quite click with the purist crowd. Then there's also the snowflake hour hand, which obscures the minute sub-dial.
Fast forward two years and Tudor brings out the S&G model. Now with contrasting sub-dials and two-tone elements abound — including actual solid gold components — it's a much more attention-grabbing piece. Whereas two-tone watches can air on being dressier than their steel counterparts, the Black Bay Chrono utilizes the mix of metal to increase its attitude, and as I said in our podcast back from Basel, it makes the watch sleazy-cool in just the right way. Tudor also refined the case, bringing down the height slightly. The hour hand is still the same snowflake, however, and I'll get into that below.
With the addition of a solid gold bezel and pushers and a capped-gold crown — where the crown is basically wrapped in gold, which is far thicker than any plating — the base price of the Black Bay Chrono S&G (BB Chrono going forward) is significantly, but not unexpectedly, higher than the steel model, starting at $5,600 on leather or fabric (versus $4,775 for the all-steel model). The two-tone bracelet then features solid-gold on the endlinks and capped-gold center links, bringing the price up to $6,800. While I believe less is more when it comes to price tags and gold, I'll be reviewing the model with the bracelet because of availability.