September 22, 2023
Tool/Kit: Camping in Sweden with Lydia Winters and the New Hamilton Khaki Field Expedition
in partnership with
By way of a quick introduction, hi! I'm Lydia Winters, an American living in Sweden for the past 12 years. Come hang out with me and my sambo (a perfect Swedish word for a live-together partner), Vu Bui, as we explore the Swedish forest with the new Hamilton Khaki Field Expedition. I'm wearing the 37mm black dial on a bracelet and Vu's wearing the 41mm white dial on the brown leather strap. There's also a blue dial that I can't wait to see in person.
I didn't grow up in a camping family… wait, scratch that, I didn't grow up in an outdoors family, except for the beach. As a native Floridian, most of my outdoor life revolved around the Gulf of Mexico and the beach. Moving to Sweden 12 years ago began not only my work career but also my love of the great outdoors, but backpacking has stayed in the periphery of my comfort zone. It's quite infrequent that Vu gets me to head out for an overnight trip. Luckily for him and me, I couldn't resist a chance to take the new Khaki Field Expedition for an overnight adventure. So, off to the forest we went. Let the expedition begin!
Autumn has officially hit here in Stockholm—mornings are crisp with dew covering the landscape, but there's still a bit of warm sun during the days. Leaves are starting to change color and fall to the ground. Mushrooms litter the entire forest floor due to heavy late-summer rains. We decided to take an overnight trip to our favorite lake. The forest is dense with occasional paths and game trails, but most of the time you're forging your own path, as there are no established trails that take you to this part of the lake. The great thing is that along the path there's an abundance of bilberries, aka European blueberries, which is perfect for me since my love language is forest blueberries. They are almost out of season which only increases my desire to eat as many as possible along the way.
Both Vu and I are kitted out in Fjällräven for most of our outdoor clothing, I'm in a vintage Fjällraven jacket from the 90's and a pair of Fjällraven Abisko trekking tights. Fjällräven is Swedish for arctic fox and it's one of our favorite brands. You'll see with most of our gear that we continually pick Swedish and Japanese heritage brands. Both countries have a rich history of handcrafted long-lasting outdoor gear. But when I pick watches, I like to go Swiss, so Hamilton certainly checks that box. As a brand with a rich military history, Hamilton watches are always ready for the toughest environments and conditions. 
Being a photographer means not only bringing everything for survival and comfort, but also a full kit of gear for memorializing the adventure. Did it even happen if you didn't photograph it? My go-to gear for watch photography is my medium format digital Hasselblad. I was chosen as a Hasselblad Heroine for my photography in 2022, which was an unbelievable honor since I'm a huge Hasselblad fan. For this trip, though, I wanted to have the option to shoot at a more wide angle. My Leica Q2 is my carry everywhere camera. For this trip, I used the Hasselblad to take care of detail images, such as my close-ups of the Khaki Field Expedition's unique steel compass bezel, which came in handy as there weren't many clear trails where we set up camp. I used the Q2 for more atmospheric images, but one thing I didn't think about was the extra weight of a second camera. The addition of my Hasselblad X2D with 80mm lens, my 120mm macro lens, and my Leica Q2 set my pack at over 17 kg (~37 lbs). As I put on my heavy pack, I hoped my inconsistent strength training would help my legs hold up to the test. (Spoiler alert: It did!)
As I previously alluded to, one of the new features on the Hamilton Khaki Field Expedition is the bi-directional rotating compass bezel. Nothing quite says "take me on an adventure" like a compass bezel. With the entire case including the bezel being brushed steel, it has a rugged yet refined look. Whenever I look down at my wrist, I love that it looks distinct from any of the other watches I wear, while adding an extremely useful functionality I didn't even know I needed. It's very easy to use. In the Northern Hemisphere, just move the compass bezel so that the south marker is exactly between the hour hand and the 12 o'clock mark. Then keep the watch horizontal and point the hour hand toward the sun. Now in that position, the north, south, east and west compass markers are each then pointing in the correct directions.

We have a spot overlooking the lake that we especially love to visit and have talked about camping there for years. Today was finally the day! We found a spot on the rocky cliff to set up camp for the night. Vu had his work cut out for him since the place we picked was a mossy rock, definitely not the easiest way to secure a tent. Unlike me though, Vu has been backpacking all his life and besides that is a great problem solver. He tied up the tent with no problem and only once did I knock everything over by tripping on one of the guy lines. Oops! Even though this spot was difficult with needing to climb up and down the cliff and no easy way to secure it, the view was absolutely worth it!
I was excited to take the watches and photograph them as soon as we got to our location for the night, but my legs weren't interested in that plan. My wrist didn't feel the same though, my watch was incredibly comfortable throughout the journey. It sat perfectly on my wrist, and despite the variety of terrain it was an easy wear. It's often a struggle for me to get the sizing correct, but between the half links and micro adjustment holes on the nicely milled clasp, I was able to size it perfectly. I always appreciate when a brand adds details for sizing customization, it makes a huge difference.
I took a break and enjoyed the watch and view from our new home.
For us, a lot of time is spent thinking about what gear to bring ahead of the trip. I'm a chronic overpacker, because I want to make sure we have anything I could possibly need or want. On this trip though, I had to pair down some of the things I brought because of the added weight of camera gear. 
One of my favorite new purchases is my Barebones flashlight. I love that it looks like a vintage flashlight but is actually USB charged with an LED bulb. The Hamilton Khaki Field Expedition watches also have the feeling and appearance of being vintage while giving me the reliability of being new, modern, and ready for anything. It's important when you're out exploring that you can depend on what you have with you.
Vu loves tools! He went out to find a fallen tree to use as firewood with his Gränsfors Bruk Outdoor Axe and a Japanese saw. Gränsfors Bruk has been making axes in northern Sweden since 1902 and they forge their own heads with 100% recycled steel. After finding a log that didn't seem rotten or too wet, he used the saw to cut it into larger chunks. Then took the axe to split it into firewood. I probably should have been helping but instead I kept photographing him. I couldn't get over how amazing this watch looked in every setting. The leather strap made it look even more rugged and fit nicely with his primarily Swedish outdoor clothing. At first, we both thought the 41mm might look a little big on his 16cm wrist, but it ended up suiting him well.
With the coziest fire blazing, we were finally ready to relax for the night. This Snow Peak Pack & Carry Fireplace isn't the lightest to carry, but it creates an easy, beautiful and safe fire pit that won't char or damage the landscape, which is important when you're not staying in established campsites. I couldn't get enough of being by the fire since by this time the temperature had dropped significantly. There's nothing quite like warming yourself by the fire on a cold night – especially when you're under the stars with your favorite person!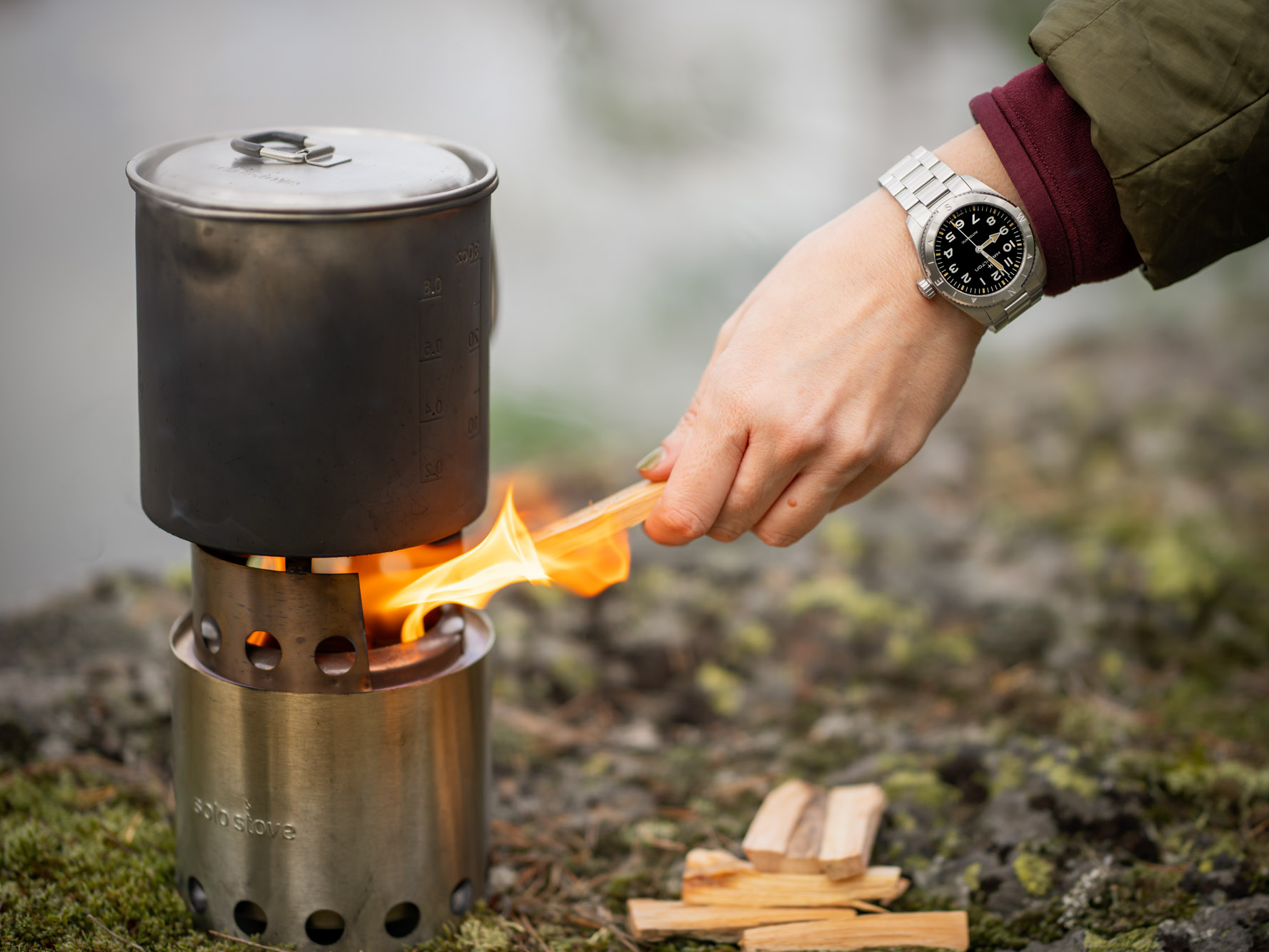 I had an excellent night's sleep in our Hilleberg tent. It has a large covered space to store all our gear and a separate living space for sleeping. It's quite spacious overall and just barely fit the spot we picked out. Waking up, the sky was threatening rain, but that didn't deter me. It was time for my favorite part of the day—coffee!
Vu has had this little Solo Stove for over a decade and it was my first time trying it. I can't get over the tiniest firewood logs you need to make for it. The one bad thing about tiny logs is that they burn up so quickly! If I looked away for a minute, the fire would start going out. It's so infrequent that I get to be part of the entire process of making coffee. This made it such a focused task. From keeping the fire going, to grinding the beans, to pouring over the hot water, I was fully immersed in coffee making from start to finish. Besides the Solo Stove, I went for all Snow Peak gear from Japan for coffee making. The coffee grinder provided an early morning workout while grinding the coffee beans. The coffee drip mimics the look of our fireplace. Vu's titanium mug is almost 20 years old and has been used around the world. Mine is newer, but now has more than 5 years of adventure etched in the scrapes and dings of the titanium body.
Okay, I'd had my morning coffee, now I was ready to photograph these two watches. I was in my element because I only shoot with natural light and primarily outdoors. I love finding natural textures and locations that compliment the watches. And that morning, I basically had the whole forest of locations to choose from!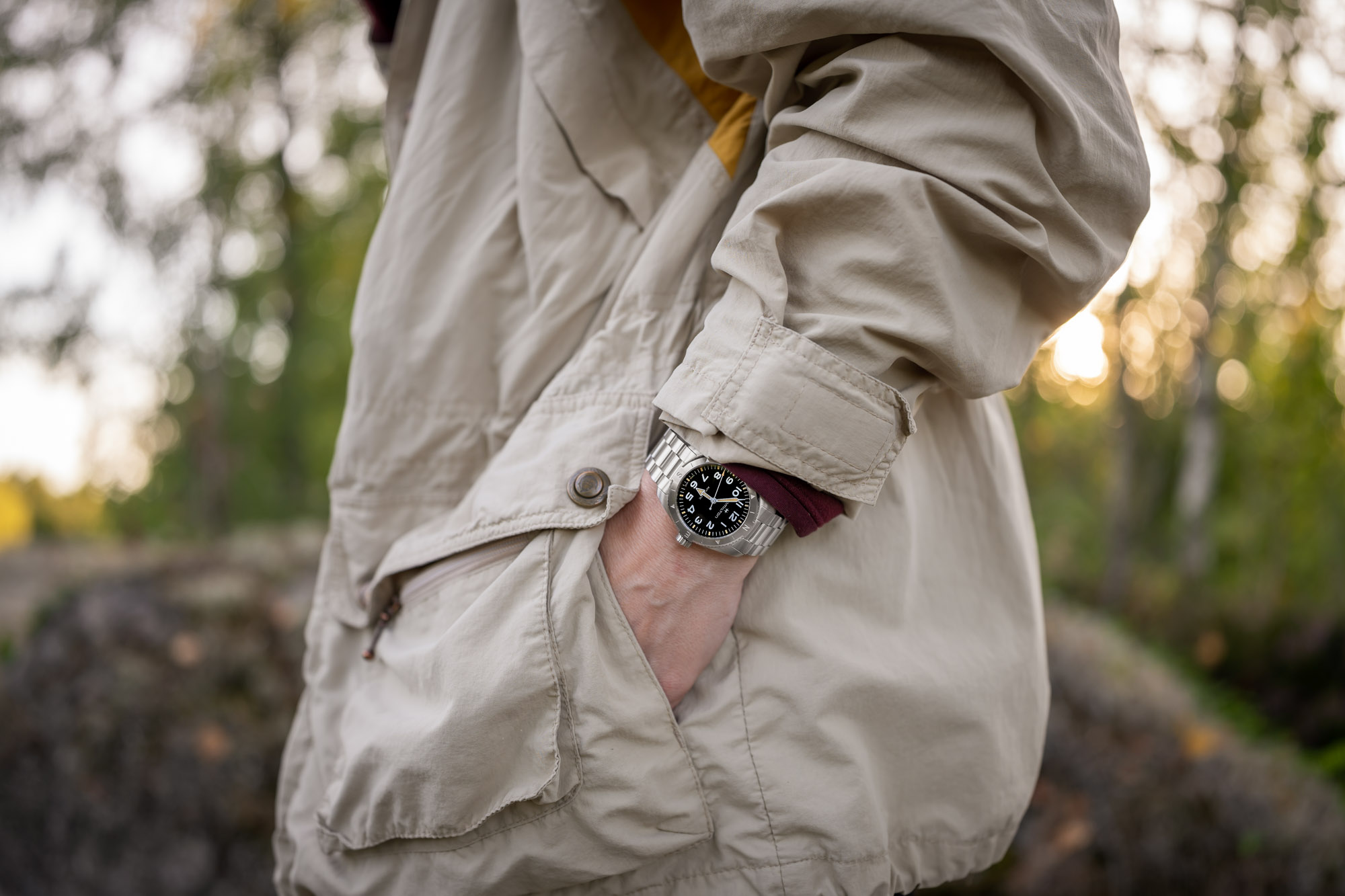 When we look for gear, we want to buy quality items that will last. It's nice revisiting the same gear over and over and it brings along all the memories of other times it's been used. It's similar with watches, all of the scratches and wear show the adventures the watch has been on. Somehow my watches show so much more adventure than Vu's, even when we go together!
These watches photograph beautifully, in part due to the new anti-reflective coating and lightly domed crystals. The tan accents on the hands and hour markers give them a vintage vibe. This timeless classic feel makes them sporty but also refined. On the bracelet, I could see this easily being an everyday wear and that durability is emphasized by the Khaki Field Expedition's screw down crown for that added water resistance and extra peace of mind.
I can never resist putting watches on mushrooms. There's something so magical about how quickly a mushroom grows, decays, and goes back into the earth. It's a fleeting time that you get to experience each individual mushroom. Pairing it with something as timeless as a watch captures the dichotomy of two almost exactly opposite things. It's why I also love pairing watches and flowers. The beauty of nature gets to be immortalized in an image and I enjoy knowing that just hours later it could look totally different. There's something about the passing of time that's more evident in the natural world around us as it changes constantly. Don't worry, neither of these mushrooms came home with us, they just let me use them as interesting props!
The thing I haven't gotten used to with camping is how it's a series of packing and unpacking. It felt like we'd just arrived but it was already time to head back. We decided in the future to always make our backpacking trips at least two nights. You don't have to pack that much more to stay two nights versus one. It would have been wonderful to stay longer, but the fall is our busiest time at work. This was the perfect distraction of being in nature and slowing down, even if it was only for 24 hours. It reminded me that being out in nature for any amount of time almost instantaneously calms me down. So here is your friendly reminder to go outside and do something fun in nature!
There's nothing quite like going on a nature excursion and even more so when you get to do it with a special watch! It's clear the Hamilton Khaki Field Expedition is designed to be a comfortable cool watch that begs to be taken on adventures. The brushed steel case and bezel keeps it looking rugged and left me feeling less worried about those first few scratches since I'm rough on watches. The white and black colorways both have that iconic tool watch look, while still feeling fresh and innovative. The 37mm and 41mm ended up fitting great on each of our wrists—a big thanks to Hamilton for adding the 37mm to the Khaki Field lineup. Small wrists around the world can rejoice! I genuinely love this watch and would like to own one. I'd very happily wear it on my adventures around the world. The hardest part would be choosing which of the three colors to get!