Though it doesn't need to be winter to wear a gray dialed watch, it felt like a good enough excuse to write about them. While white and black dials are more standard, and obviously attractive in their own right, there is something special about gray. Whether a medium steel, light silver, matte graphite or deep charcoal, a nice gray dial has unique depth and materiality. They are dynamic, they can be cool, sometimes with hints of blue or green, or grays can be warm, with reddish browns coming through. Grays are very versatile, going with just about anything, though I personally find they add more character to an outfit. They can be flat, they can be metallic, they can be found through aging and patina.
Below is a list of watches in various gray hues. Some we've reviewed, some we're soon to and others I've just eyed from afar… but all have a certain charm that, I think at least, comes from the subtle smokey tones of their dials. Had they been other colors, perhaps they wouldn't have caught my eye the way they did. Enjoy
Can't go wrong with starting a guide off with an Orient, so here we go. The Curator has a medium matte gray dial with an almost paper like texture. It's a very neutral gray, with the slightest hint of a cool tone. It serves as a beautiful setting for the oversized, brushed steel applied markers that stand high above it. Also sporting a date, power reserve and sapphire crystal, the Curator is a hard to beat value at $290 after coupon, and a great, affordable way to get some gray in your collection.
Uniform Wares has perfected their take on the modern, minimal watch with the M40 in Brushed steel. Featuring a palette that is entirely metal, using different finishes for contrast, it's a symphony in light and medium gray. It's cold and atonal, speaking to the material and manufacturing processes… and it's stunning. We'll have a review of this one soon.
Part of their line of simple, clean and classic dress watches, the C5 Malvern Slimline in gray is just right in so many ways. The most paired down of the Malverns, the Slimline lack numerals, the date and minute or second indexes, featuring only applied steel batons. All of the personality comes from the dial surface itself, which in this case is a sunburst charcoal. Ranging from near black to ash, the sunburst finish makes it remarkably dynamic, giving it a tasteful amount of glitz.
Another JDM model, this re-issue takes one of Seiko's quirkier classics and plays with the palette for something very intriguing. Based on the 7A28 powered 80's model that was featured on Bishop's wrist in Aliens, the asymmetrical design and bright color highlights make it strange and unique. This version is tastefully colored in pale grays with an orange that cuts through, giving everything a warmer tone. The play between the solid orange hands and the two tone dial is particularly interesting.
The newest colorway of the timeless Max Bill designs, the anthracite dial automatic might have the most perfectly tuned palette of any watch. Looking near black in some light, closer to graphite in other, the surface has a tone that is subtle but deep. Light ochre numerals and mirror polished markers mix with the anthracite to create something almost sun-bleached, but absolutely balanced. It's genuinely a work of art. Look out for a review on this one real soon.
One of those watches that really grew on me when I wore, the Fireman Racer Classic has mid-century looks with a modern size, tritium tubes, and a deep, brooding warm grey dial. Similar to the C Ward C5, the Racer Classic's dial has a sunburst effect, but with the addition of a pie-pan shape, adding even more depth. The grey is dark, near graphite, but has a brown haze that makes it very rich and masculine. Perhectly matched with a brown gator strap, it's one of those watches that just exudes class.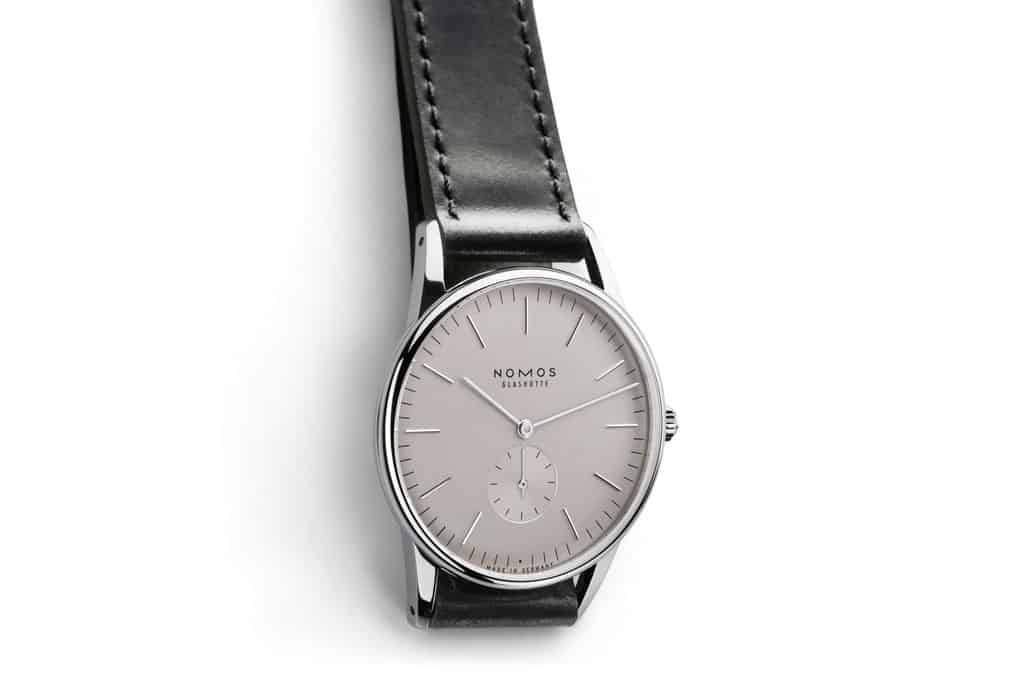 When you see the Nomos Orion in person, it redefines what an elegant watch can be. Every curve, every proportion, ever color is pitch perfect. And, thankfully for this guide, multiple models feature gray. The "Grau" (yes, thats gray in German) has a gray rhodium dial that, in their words is "Gray like Roman Carrarra marble, like the sky above, like a young silkworm". It's offset with black printed indexes and bright, polished batons, for a tone-on-tone palette.
The new 1989 Limited Edition, released to celebrate the 25th anniversary of the fall of the Berlin Wall, has what they call a "November Gray" dial (great band name, if not taken) that is dark and almost gloomy, but is pierced with gold batons and hands, creating something that is reserved but a touch decadent. This one comes on a dark gray suede strap, further complimenting the dial.
Rado isn't a brand we've talked about before on w&w, not because they aren't interesting from time-to-time, but because they are always a bit too expensive for our tastes. And that's very true for this watch (MSRP is north of $3K and its quartz), but I had to include it here as it features a gray ceramic case and bracelet. It's hard to tell in the rendering, but I've seen it in person, and it's utterly gorgeous. It's dark, but clearly not black, with a strong undercurrent of blue/teal. It's not really like anything I had ever seen before. This case also features a nifty system where you set the time by touching the sides, so it has no crown.
I'll take any excuse I can get to write about this watch, as I still think about, long for it, after seeing it at Basel last year. Junghans has a way with dials that few can match, and on the Meister series, they all feature domed surface with concave sub-dials that have impossibly sharp edges. The dial is a steely silver, darker than you might expect, but it works perfectly for this vintage design re-imagined. The very technical series of indexes on top add texture that brings it all to life. This is the kind of watch that adds sophistication to anything you wear.
This one might surprise our normal readers as it's out of our typical price range, and B&R aren't known for their value… but, jeez… this watch is the holy grail of gray. First off, the case is Argentium, which is a modern silver alloy that is highly tarnish resistant. Silver has a different sheen than polished steel, and on a bowl shaped case, it's going to look dark and liquid in an awesome way. But the dial is what gets me. The Ruthenium sunburst surface ranges from black to white, but hovers around a dark-medium. The markers are all polished, contrasting the surface, but also absorbing in, playing with your eyes. The big, polished leaf hands almost look molten… and that oversized sub-dial is simply bliss.
All together, it's icy and sleek. I don't just want to wear it, I kind of want to live in it. When I think of what luxurious material coming together should look like, I never picture gold encrusted with diamonds, I picture the sort of intangible relationships seen here. It's not just the shifting colors, it's the play of finish and materiality of it all. And as far as gray goes, you have a spectacular range of tones here, but they are magically tuned to work together.