Today, we are beyond excited to announce a project that is over three years in the making, the only American-made nylon watch strap. Over the years we approached many manufacturers within the watch and textile industry about producing the strap in the United States and heard over and over that it couldn't be done. Well, if there is one thing that can define the team at Worn & Wound, it's stubbornness. That, and a healthy dose of patience.
Needless to say, we are very pleased to introduce ADPT Strap: the All Day, Purpose and Terrain American-made Nylon Watch Strap. Or, as we call it, Adapt Strap.

ADPT Strap is the only fully American-made nylon mil-strap currently on the market. Everything, from the webbing to hardware to thread to final stitching and even packaging are sourced and manufactured in the USA, most of which is custom made from the ground up. Based on a military design from the 1970's, ADPT Strap is a classic design featuring the signature security-band underneath, catching your watch should a spring bar fail. Though originally designed for the military, we see this design as an ideal everyday, sport and outdoors concept, hence ADPT.
For those of you want to cut to the chase, ADPT Straps can be purchased at shop.wornandwound.com, Huckberry, Bespoke Post and Long Island Watch right now. For those who want to read about the making of ADPT, please continue on. We also have a dedicated ADPT site for more info.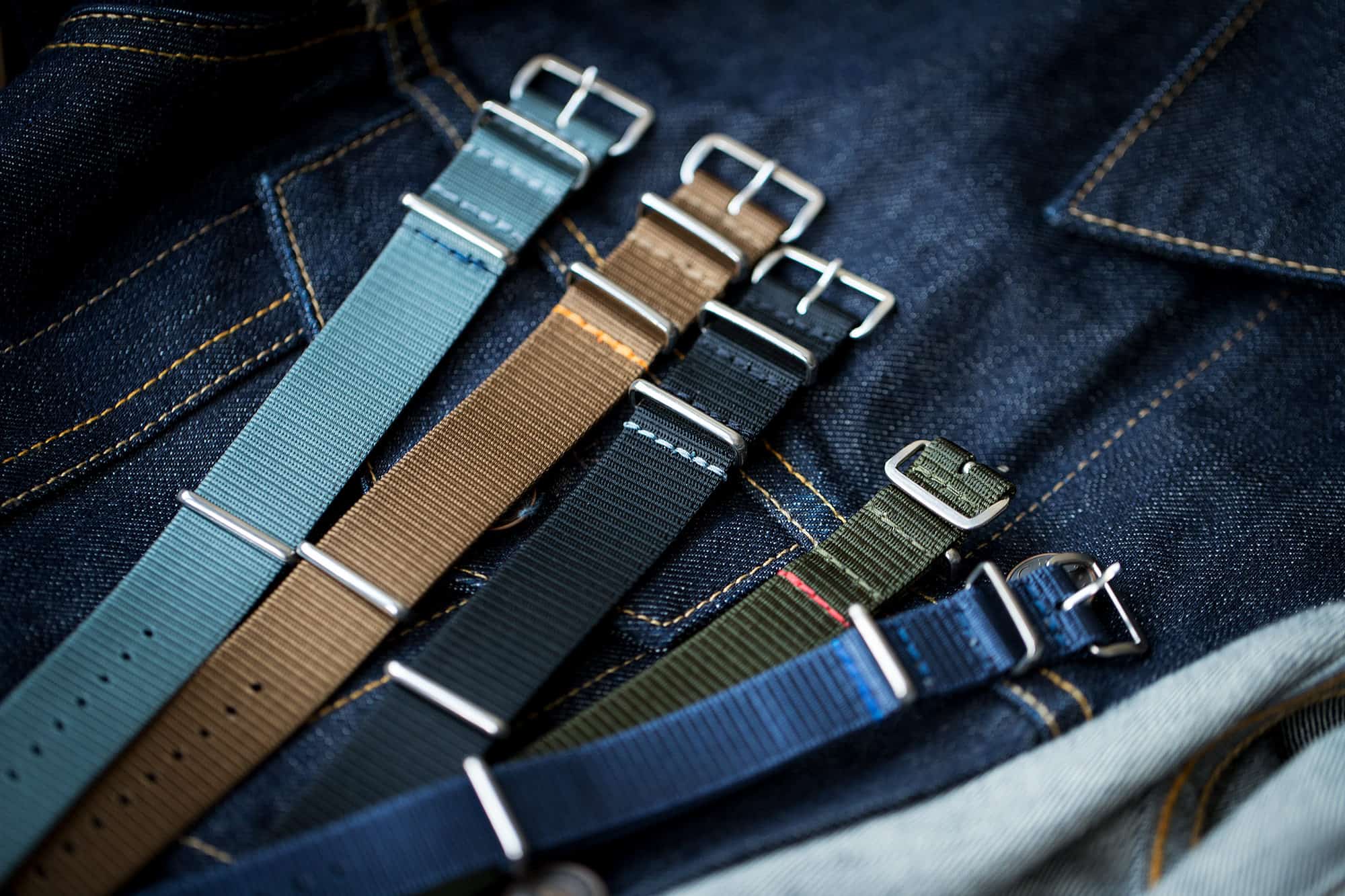 Our first big challenge was finding the nylon. Seems like an easy task, but in the US, getting metric sizes means making new patterns. It took a lot of cold calls, starts, stops and bottles of Tylenol until we finally found a partner, but we couldn't be happier with them. Based in the northeast, they operate a state-of-the-art facility and their client list includes NASA, DARPA and the US Military.
For webbing, our initial series features custom shuttle-loom woven 420D nylon. It's about 1.5mm thick, making it nice and plush, with a marked tooth that differs on the top and bottom and an attractive bevel on the sides, a sign of the traditional manufacturing technique used. It's tough and rugged, yet comfortable on the wrist.
Webbing might seem like a simple, almost stock component of a strap, but trust us, it's anything but. Our manufacture gave us a tour of their facilities which was truly eye opening. To summarize the process, webbing starts as its most fundamental unit, mono-filament nylon. Thin as a human hair, these delicate strings get wound together through a machine of sorts that I could only describe as a mix between a spiderweb and a prism of light. Hundreds of strands on spools getting sorted, organized and twisted together to create the thread that will later be used on looms. Each thread being a custom thickness for the job at hand.
Next, the loom gets prepared, which requires a days-long manual process setting up a pattern. Once prepared, the loom can begin making the webbing. This is a centuries-old technology that still produces a fine product. The machines themselves are gorgeous, featuring hand-carved wooden shuttles, clacking away in an industrial symphony. You know how selvage denim is well-regarded for its durability and quality? Our nylon is made in largely the same way.
Once woven, the nylon gets dyed to our custom colors, which are perfectly matched from sources via light spectrometer, guaranteeing the same color every time. The dyeing machine alone was bigger than a NYC apartment, feeding the nylon up and down through baths of dye, then curing lights and drying lamps. On one end it's white and raw, on the other it's fully dyed and safe to touch. It's borderline miraculous to watch.
Save
Save
Save
Save
Save
Save
Save