March 24, 2023
On the Job, Street, and Trail with the G-SHOCK GM2100C Utility Metal and Outerwear Expert Wallie Luu
in partnership with
When we first laid eyes on G-SHOCK's new additions to the GM-2100 line called the Utility Metal collection, we knew we'd need to call in an expert in utilitarian style. In order to help us tell the story of these three rugged watches—each with a touch of casual sophistication—we reached out to our pal Wallie Luu.
Not only is Wallie a G-SHOCK aficionado, he's a gear enthusiast with one of the most expansive collections of rugged outerwear designed for the toughest of conditions. We caught up with him at work, on the street, and on the trail where he demonstrated for us the versatility of this new collection. He also told us some great stories and imparted his words of wisdom, all while sporting the now iconic octagonal form and metal-clad design of these GM2100 standouts.
Hey Wallie, thanks so much for chatting with us. Tell us a bit about yourself.
My name is Wallie Luu, born and raised in NYC. My family is originally from Vietnam, but I'm definitely a city kid and I've made Brooklyn my home. By day I'm a mechanic at my family's auto repair shop and on the weekends I'm an outdoors guy. I'm also a collector with a focus on vintage, unique, and hard to find outerwear and gear.
To kick off our photoshoot, we met you at work. Can you tell us a bit about your career path and what's most important to you?
My dad started his auto repair shop back in '88 and I've been going to the shop and working on the weekends since I was 11. Right out of college, I did what you're supposed to do and went and got an office job, because, you know, your parents don't want you doing hard labor. I was in finance for 15 years, but there came a time when I didn't want to be a cog in the wheel and I wanted to spend more time with my family. I saw that my family's business had a lot of potential, plus the time I've been able to spend with my dad and my mom… I could never put a price on that.
You've traveled quite a bit. Can you tell us about the importance of getting outdoors and what are some of your favorite places?
I've been very fortunate to travel, my parents put that into us. My dad always wanted to go to National Parks, and once he had the time and the means to take us, that was the beginning of my love of travel and the outdoors. We went to Yellowstone and Yosemite first and I just got hooked. I think it's crucial to balance city life with time in the wild. And since those early National Park visits, I've gone to some seriously untouched places like Alaska, Central Vietnam, Cambodia, and my favorite, the absolutely unreal Zhangjiajie National Forest in China. Which should be on everyone's bucket list for sure.
You're a gear guy, when did you start falling in love with gear and how did you become such a specific type of collector?
I have to date this back to 1996. A classmate of mine introduced me to the bright, bold, and iconic Nuptse down jacket by The North Face. I started seeing it in a few hip hop videos and I was sold. Right by City Hall on Park Place, there was an outdoor shop called Tent & Trails in Manhattan. They had all the hiking gear you could think of. If you wanted to go anywhere, they could outfit you for anything, from a walk through the woods in the Adirondacks to a Himalayan expedition in the Death Zone. We went there and when I walked in, I'd never seen so much gear in my life and I was hooked. I was like super hooked.
How many coats, jackets, and shells do you currently own?
I've lost count. 
Ballpark it.
Oh man, easily 50 or more if I had to just guess it off the top of my head. I mean, I have 10 colorways in just one model, so I'm probably lowballing it at 50+. But I like having every color, because like I always say, color is the spice of life.
Where do you find the best examples of vintage or unique outerwear?
I never find them at thrift shops. I look online at places like eBay and Poshmark. I'm always finding the stuff that people don't want because it's a model that wasn't popular. But I like it because nobody else likes it. Depending on the brand, I have found $500-$600 jackets that are selling for $45. People don't know what they're letting go of, like 3-ply GORE-TEX™. It's just tough, tough stuff. So that's what I go for, stuff that wasn't popular, but is the best of the best in terms of quality products.
When did you get your first G-SHOCK and what role have they played in your lifestyle?
Coincidentally, I also got my first G-SHOCK back in 1996 as well. That year, I went on a trip through Asia and met up with my cousin in Hong Kong, who introduced me to this robust Casio digital watch. I knew Casio made basic digital watches and even ones with a calculator, but this was something else entirely. The version he showed me was G-SHOCK's first G-LIDE model designed specifically for swimming and action sports. I still have it! Since then, I've always worn G-SHOCKs. I was constantly doing outdoor stuff with my friends as well as biking, ice skating, and rollerblading—their durability and design has always just matched my lifestyle.
How do you connect with other enthusiasts who share your same passion?
I find 99% of the other collectors and outdoor enthusiasts on Instagram. Once I connect with folks, it's fun to set up meetups and hikes. Just recently, I set up a photoshoot at Hudson Yards with collectors of apparel inspired by the 1990 Trans-Antarctic Expedition for climate change. I'd gotten cool with a bunch of collectors, one of them even had some original pieces from the trip that he had received from W.L. Gore' s wife. Basically, the shoot was to get everybody together, show the love of that expedition and its gear. We just wanted to pay tribute to that original expedition of scientists who went to Antarctica.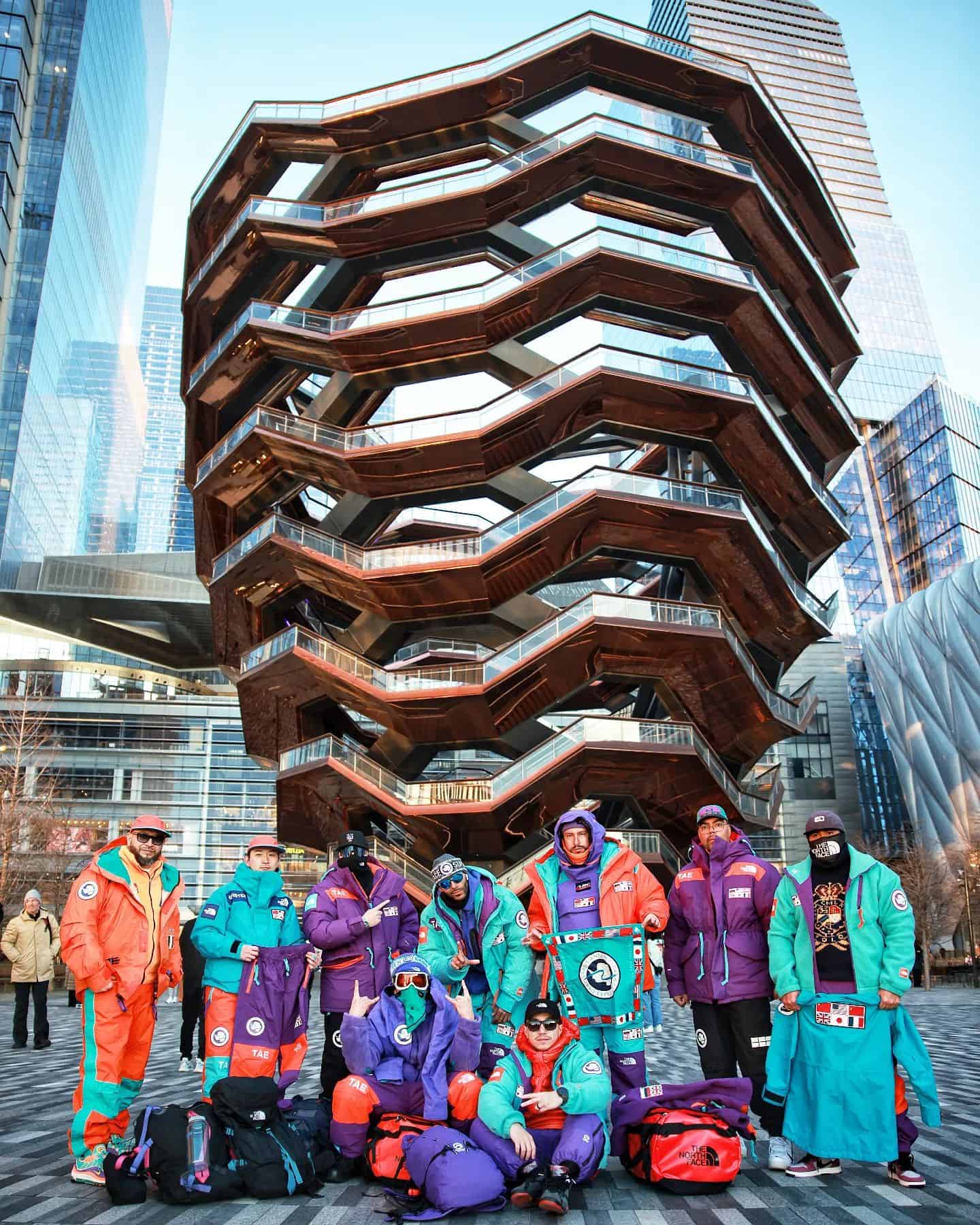 FUN FACT: The 1990 International Trans-Antarctica Expedition was a 3,741-mile, 220-day expedition and the first-ever non-mechanized crossing of Antarctica. The six-member, international team was co-led by U.S. team member Will Steger and French team member Dr. Jean-Louis Étienne, and included Victor Boyarsky (Soviet Union), Geoff Somers (Great Britain), Qin Dahe (China) and Keizo Funatsu (Japan). Photo by: @mindmuseum_
We're featuring the new G-SHOCK Utility Metal collection in the story, can you give us your first impressions? Did you find it easy to pair them with your style?
All of the G-SHOCKs I've owned have always been pretty big, burly watches that can take the abuse I put them through, whether I'm at the shop, exploring the city, or on a trip. I really like how sleek and low profile these G-SHOCK Utilities wear, without sacrificing how robust they are. I feel like these work great as a solid, everyday watch thanks to their metal bezels. I'm also really impressed with the quality of the strap. I wasn't sure what to expect with a fabric strap on a G-SHOCK, but for me it's an intriguing combo. It's just a versatile setup that works for me on the job, on the street, and on the trail.
"
Let's just do a hike. Let's just go on a trip. Let's just go.
What advice would you give our readers about pursuing their passions?
I think the biggest thing when pursuing your passions is to make time for yourself to leave your comfort zone. Not everything is about the 9-to-5. I get it, it's exhausting. But even if you're tired and it's been a long week, you gotta force yourself to say: let's go somewhere. Let's just do a hike. Let's just go on a trip. Let's just go.
Thanks for hanging with us Wallie!
You got it. Let's do it again.
SPECIFICATIONS: Case dimensions: 49.3 × 44.4 × 11.8 mm, Weight: 72 g, Case / bezel material: Resin / Stainless steel, Crystal material: Mineral glass, Strap material: Cloth, Shock Resistant Construction, 200-meter water resistance, Power supply and battery life: Approx. 3 years, Features: World time, Timer, Stopwatch, Calendar, Alarm/hourly time signal, and more.