This is not a review I could have predicted writing. Not even close. If you had told me that in my lifetime, let alone within 11 years of starting Worn & Wound, I was going to be reviewing a plastic, quartz Speedmaster that only costs $260, I would have laughed. Hell, even if someone had asked me if I thought such a thing would happen, I would have laughed and said, "sure, when monkeys fly out of my butt." But here we are in 2022, and I am writing this review. A review of perhaps the most Worn & Wound watch I could ever imagine. I suppose if the last few years, nay months, have taught me anything it's that we live in a timeline where the unthinkable is probably what we should expect.
It's far from breaking news at this point that on March 24th the Omega x Swatch BioCeramic Speedmaster MoonSwatch was released. A series of 11 timepieces in a variety of colors, all based on the Speedmaster Professional case and design, each inspired by a different body in our solar system. Reactions ranged from pure joy to utter confusion to misplaced rage. No matter the reaction, they were big, and reached well beyond the confines of the watch enthusiast crowd.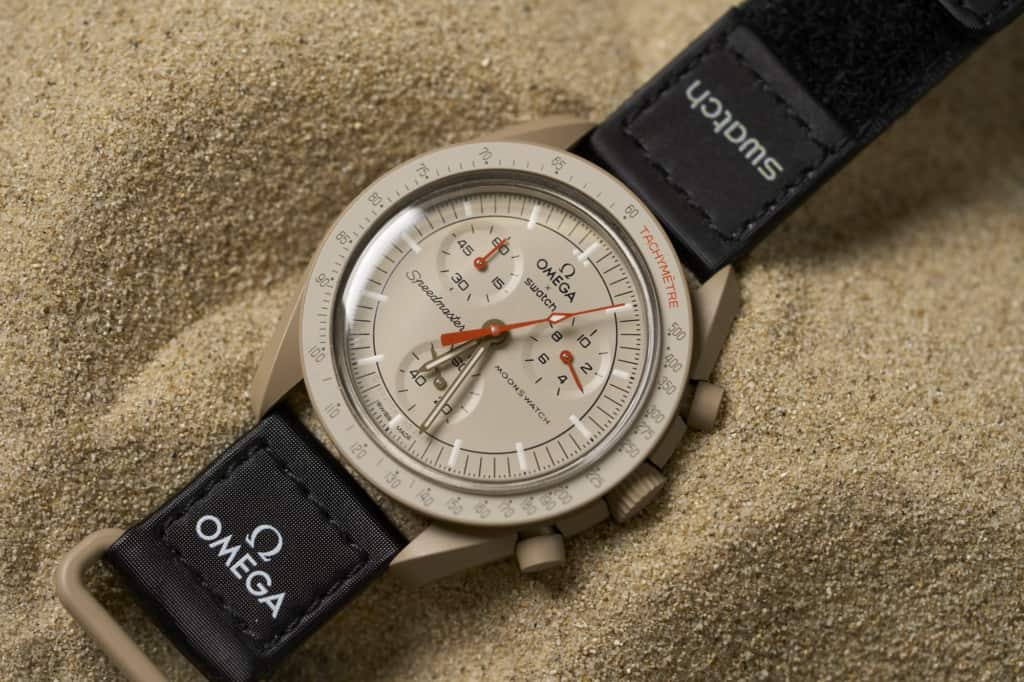 This was a global event by two household brand names. One known for accessibility, irreverence, and color (and saving the Swiss watch industry), the other for luxury, quality, and perhaps the most iconic watch ever produced. A watch that is synonymous with one of humankind's greatest achievements. An achievement that loses none of its mystique as decades pass. Landing on the Moon. The hype was palpable and infectious.
And then, chaos ensued. Wildly unanticipated demand led to a near-disastrous launch. Crowds pushed, mobs charged, long lines of hopeful folks left without watches and a bitter taste in their mouths. Even more learned there wasn't any point in trying, at least for the time being. It's not what any of us wanted to see, putting a cloud over what should have been one of the most joyous launches in watch history. The ultimate watch crossover. A watch revered by many, but available to few, reconceived to be accessible at large. A blow to the exclusivity and elitism that surrounds watch collecting like a bad smell.
Things have since calmed down. The launch is no longer a headline. And while there has yet to be a full-scale restock (though there are rumors of stock trickling in), for those willing to pay a little more they are available. Keep reading on whether or not they are worth it above MSRP… Now, we can get back to what matters, the watch itself and not the hype around it. With the excuse of writing this review (hey, it's a good excuse) I did go the second-hand route and picked up a Mission to Jupiter to try, wear, and (spoiler alert) really enjoy over the last couple of weeks. So, I'm going to review it like I would any other watch. A $260 quartz chronograph made of Bioceramic by two of the largest watch brands in the world.