Though most probably know Squale from their affordable Submariner homages, we at worn&wound are fans of the brand for an entirely different reason. There's no denying that the watch world today is obsessed with everything "heritage." Prices for vintage pieces have gone up, long-gone companies are being brought back from the dead (with little to no connection to the past), and countless established brands are digging into their archives to revive discontinued models and designs. Despite the effort, it all feels a bit disingenuous, with marketing departments clearly playing up heritage to sell consumers stories that, more often than not, aren't true. Squale is different.
Squale's history stretches back to 1948, when dive enthusiast Charles Von Buren first began assembling watches in Neuchatel, Switzerland. The brand saw some serious growth under his tutelage, and throughout the 60s and 70s Squale was a respected leader in the dive watch world (in fact, a number of brands, from Doxa to Blancpain, subcontracted Squale to build cases for their watches). Later, Von Buren began producing watches bearing the Squale name and shark logo, resulting in some of Squale's most iconic timepieces. In the final decades of the 20th century, the Quartz boom hit Squale hard, as it did many other brands. Though Squale persevered, efforts were refocused on producing affordable quartz models. With that, the brand faded from memory, but never truly went away
In 2010, Squale returned to the spotlight, this time under the Maggi family, Squale's longtime Italian distributor. They directed production back to automatic dive watches, tapping into Squale's rich past and paying homage to some of their most important historical models (read our review of the Squale 101 Atmos Ref. 2002A). The watches Squale makes today aren't marketing ploys or upsized reinterpretations of a bygone era. What they make are watches that very much look and feel as though they were designed (they were) and built in the 60s and 70s, albeit with modern manufacturing processes. (It should be noted that some current models have even used NOS parts.)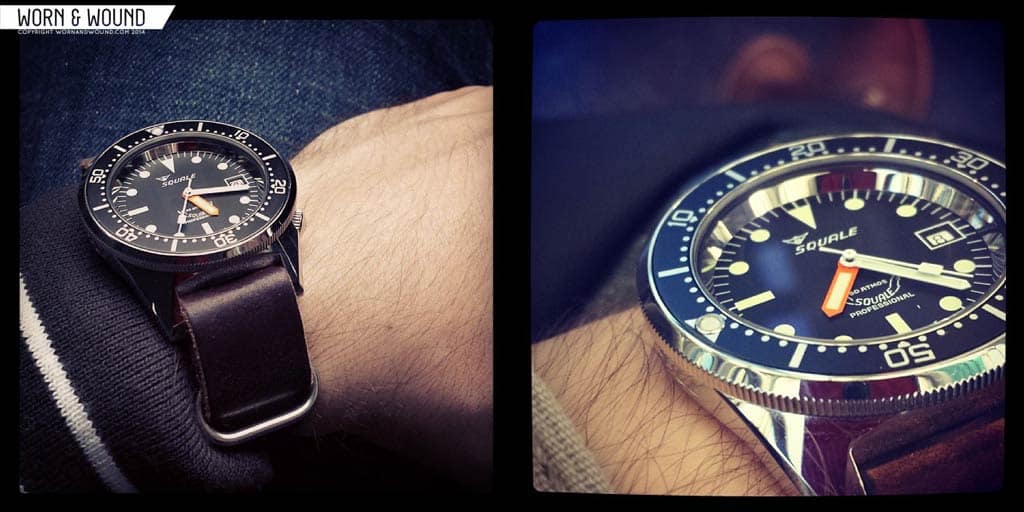 2014 has been an especially exciting year for Squale. They introduced the Master at Basel, and working with Jonathan Bordell of Page and Cooper, they created a limited edition Master line using a batch of recently discovered NOS bezels from the 1960s. Squale also introduced the Blue Dial and the Super Matte, two attractive additions to their popular 50 Atmos line.
Today's review takes a look at the black dial variant of the 50 Atmos (Ref. 1521) line. At approximately $829, the 50 Atmos is an impressive Swiss-made watch that, in terms of both style and construction, outsmarts most of the competition. The watch being reviewed is from my personal collection, so please excuse any scratches you may see in the photos. With that said, let's take a closer look.