Tudor really needs no introduction. The sister brand of Rolex, it carries with it a certain bravado that few other brands can match. One backed by fairly universal praise from both the press and the public alike. In the last few years, since Tudor's big return to the states, they've become a new staple brand in the $3,000 – $5,000 bracket. A bracket that we don't often cover, not because of the price itself, but because value tends to fall away, making room for hype and marketing. Needless to say, there was a a big opportunity for a brand to come in and take over. Tudor, the Shield backed by the Crown, was primed for this bringing with it trusted Rolex quality to a lower price point.
When Tudor returned in 2013, they did so with a bang bringing with them the Pelagos and the Black Bay lines (as well as others). Both watches were conceptually based on Submariner models of days past, and while clearly designed to not directly compete with the Sub, stayed true enough to that revered design to pull in many a fan new and old. In fact, they did more than that, they riffed on a design that one could argue had grown a bit stale. The modern Rolex Sub doesn't have the character of the vintage models, and Rolex being conservative with their design decisions is unlikely to make any big changes in the near future. However, Tudor appears to be more of a design playground for the Hans Wilsdorf group (parent company of both), allowing them to experiment.
With the Pelagos, they created an evolution on the Snowflake Sub that, with its titanium case, matte ceramic bezel, razor sharp lines, 500m WR and clever-expandable bracelet, felt like a proper modern incarnation of the tool watch the Sub once was. Though different in many ways, it spoke to the heritage of a watch that was meant to be worn. The Black Bay was then a different and curious creation.
The Black Bay is less a tool watch than its titanium brother and more a tribute to the history of the brand's Submariner variations. It took design cues from a few references, such as the earliest Tudor Subs, the 7922/7924, which featured a short gap between the case and an over-sized crown, no crown guards, and a Tudor "Rose" logo and smiling "self-winding" text on the dial. It also drew from the now hyper popular 7021 "Snowflake" Submariner, taking the blocky hour hand instead of the Rolex signature "Mercedes" style, which I wonder if we'll ever see on a modern Tudor again (I doubt it).
To say the Black Bay was a success is an understatement. They've become a go-to modern luxury watch. A weekender for those with money to spare and an accessible modern Sub to those who want to get into the crown. It seemingly has beaten even the Pelagos in popularity, likely due to it being a more style focused timepiece. The Black Bay has clearly become the brand's breadwinner, with Tudor now expanding the line into three core colors, a PVD version, a bronze model (that feels like it could have had a different name) and a bezel-less 36mm version.
Now, I have to come clean and say that despite the watch's immense popularity, I had some issues with the design that I discussed in one of our Round-Tables. In short, I found the use of a Snowflake hand with circular markers odd, and the use of a very modern case appeared to play against the heritage concept. With the Pelagos being so successful and modern, it would seem that a heritage model would want to be smaller, thinner and truer to those subs from the 60's – 90's. I'll get into these later, but another underlying concern, was one of value. Powered by the ubiquitous ETA 2824, the Black Bay seemed steep at over $3,000.
A few things have happened since that assessment. First, they brought out the Black model, which is more conservative and also "truer" overall to some of the original designs. The other, more important development was the introduction of Tudor's in-house movement. First unveiled at Basel 2015 in their North Flag model, the MT56XX (the last two digits change per variation) was a game changer, certainly in my eyes. In-house movements are few and far between under $5,000, so any that come out are a big deal, and one that is designed and manufactured by *Tudor is truly something to note. The MT56XX wasn't just another 2824 clone, but rather a unique movement that is seemingly closer in design to Rolex's own calibers. With specs that include a silicon hair spring, COSC-rated accuracy and 70-hour power reserve, it was designed to impress. Though it didn't happen immediately, everyone knew Tudor would put these new calibers in the Black Bay. (*at the request of Tudor, it should be made clear that the MT56XX movements are designed and manufactured by Tudor independent of Rolex)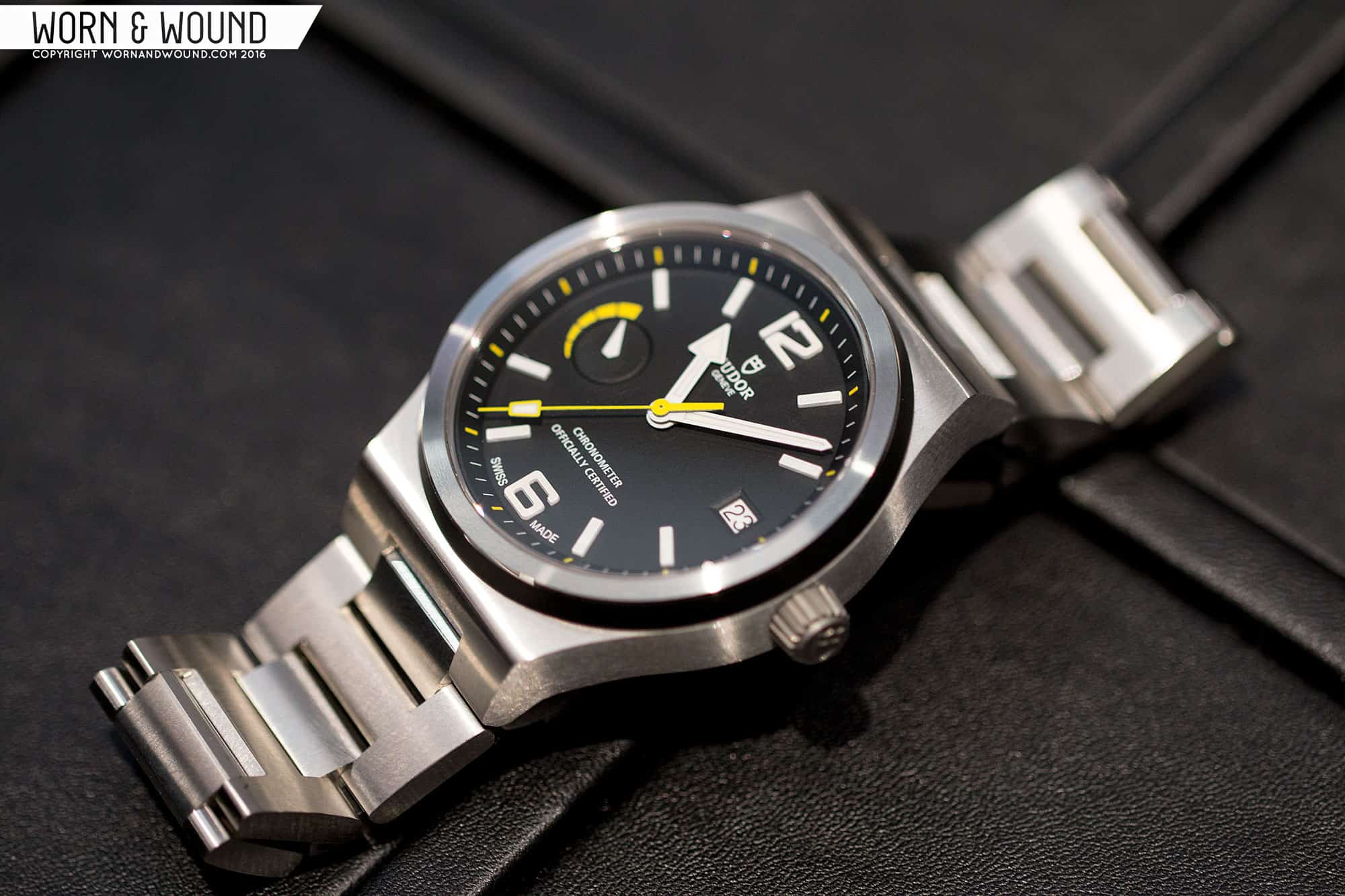 For Basel 2016, all Black Bays but the new 36mm model were now equipped with Tudor's in-house calibers (the Black Bay Bronze actually has a slightly larger version called the MT5601). Along with the new movement came a few other changes – a new "rivet" style bracelet and the rest mostly cosmetic. The price tag? About $250 more than the previous version. I am personally a huge fan of rivet bracelets, so that immediately added to the appeal of the watch, but more over, the in-house movement really changed the value consideration. The Black Bay was no longer an expensive 2824-powered watch, but rather a potentially affordable Rolex alternative.
So, when offered the opportunity to review the Black Bay Black ref 79230N, I jumped at the chance. Might I have to eat my own words? Yes, but it would be worth it to give what is ultimately a very popular and potentially high-value watch the worn&wound go over. Well, the table is set, so let's get to it.