For those of us that love watches, Glashütte has special meaning. This small town in Germany contains a few of the greatest watch brands currently in operation, brands that seem to achieve horological feats that other brands worldwide can't quite compete with. On one hand, you have a brand like A. Lange & Sohne making some of the most epically complicated, finished and expensive luxury watches, and on the other you have Nomos, who make the most accessibly priced watches with manufacture movements. And while these brands, and one or two others, might get the most attention of those in Glashutte, there are several others there that also go above and beyond to create exceptional timepieces. One brand that we here at worn&wound have always enjoyed, but seems to go under the radar, is Nautische Instrumente Mühle-Glashütte… more commonly referred to as just Mühle.
Mühle has a very long history as a manufacturer and as a family in the region, having been in one form or another for 5 generations. Starting in 1869, they originally produced precision measuring equipment for the local watch industry. By the 20's they produced car clocks, rev counters, speedometers and various counters for scientific and technical purposes. In the 70's, they were the leading producer of "dial trains for pressure and temperature measuring instruments in East Germany". It wasn't until the 4th generation of Mühle, in 1996, that they began producing wristwatches and marine chronometers. The current iteration of the brand, now operated by Thilo Mühle, makes watches as well as various Marine systems and instrumentation. The theme of the family and the brand is not that they are watchmakers, but rather makers of precision instruments, which is present in both the concepts and aesthetics of the pieces they create.
I happen to be lucky enough to own, and have for sometime, perhaps their most iconic timepiece, the S.A.R. Rescue-Timer, which serves as a perfect introduction for what Mühle has to offer. This watch was not born of an aesthetic desire, nor of a trend in the watch industry. Rather, its inception was when a need arose in the German Maritime Search and Rescue Service for a reliable and robust timepiece that could withstand their extreme needs. As such, conventional watch design was left behind and a watch born of need and function arose. A watch that is tough as nails, incredibly legible in light and dark and able to handle all terrain. It packs a 1000m water resistance, a 4mm thick sapphire crystal, a rubber bumper, a case you could take a chisel to, potent lume and a customized automatic movement with additional shock protection (more on that later).
As such, it doesn't quite look like any other watch you've seen before. That's not to say it isn't attractive, it is, but in the way that technical instruments, with clean portrayal of information and elements that are purely functional are attractive. For the S.A.R. services that use it, it's an important tool that can't fail. As a regular consumer who doesn't find themselves in many precarious situations that call for S.A.R. grade equipment, it's a go-anywhere tool/sport watch with a unique look that I know will survive any occasional mistreatment my daily life might dish out.
The S.A.R. Rescue-Timer is available on a rubber strap for $2,390 or a bracelet for $2,490. While certainly not inexpensive, for what it is it's well priced, putting it shoulder-to-shoulder with watches by brands like Sinn. It's important to remember that super tough watches with customized movements by larger retail brands would go for well north of $5k, and unlike many of those, Mühle actually alters there movements in-house with components they make themselves.
Case: St Steel
Movement: Selitta SW200-1 Mühle Modified
Dial: Black
Lume: Super LumiNova
Lens: Sapphire
Strap: Rubber
Water Res.: 1000M
Dimensions: 42 x 49mm
Thickness: 13.5 mm
Lug Width: 20 mm
Crown: 7 x 3.5 mm
Warranty: Yes
Price: $2,390
Case
The sandblasted stainless steel case of the S.A.R. Rescue-Timer has a plainness that belies the complexity of its form and the sturdiness of its structure. Measuring 42 x 49 x 13.5mm, it's a medium sized watch that feels very compact and in proportion to itself. The shape, while not complex for the sake of visual intrigue or aesthetics, is quite unique. From overhead, the watch has a central round area with large rectangular shrouded lugs (the lugs are connected overtop, creating a single mass) and an off-center crown. What catches the eye though is the black rubber bezel that encircles the dial. While many bezels might unintentionally acts a bumpers, this ring of stiff rubber is meant to protect. Visually, it gives the case a bit of two-tone look as well as accentuates the dial.
The view from the side reveals that no surface on the case is flat, but rather everything curves gently. The whole case then too has a conical shape that is wider at the bottom than the top. Though the matte finishing makes things look flatter, the curving adds an additional sense of mass and structure to the watch. Even the shrouded lugs arc upwards, softening the slab of metal and adding some thickness for structure.
The off-center crown at 4 is fairly large at 7mm in diameter, but given the angle it comes off at, has no discomfort or snagging issues. The crown design is straightforward, with coined edge for grip and a Mühle windmill logo on the flat end. Oddly, the crown is polished, which doesn't match the rest of the case. Whether or not this was functional or aesthetic is unknown, but it's honestly the one detail of the watch that annoys me from time to time. I wish the crown was either matte to match the case, or black to match the bezel. Around the crown is a little organically shaped guard the envelopes the bottom edge. While not necessarily protective, it does transition the crown into the case nicely.
As every part of the watch's design is meant to add strength and toughness, the lugs feature screw bars instead of spring bars. In order to change the strap, one needs to two screwdrivers, one for either side. While this does indeed add durability to the watch, it does make strap changing much more laborious. That said, I doubt the S.A.R. teams are swapping straps too often, so this clearly was not a concern in the design.
One of the remarkable features of the watch is the 4mm thick sapphire crystal that features an internally ground Cyclops (magnifier for the date). While one occasionally runs into watches with very thick crystals, especially when talking about 1000m water resistance divers, they usually come at the expense of increased thickness all around. The fact that this watch is a svelte 13.5 mm is very impressive as that also includes the movement and the rotor as well as the metal itself. So many dive watches are massive and bulky that it's easy to associate size with water resistance; this watch proves otherwise. That said, the S.A.R. does not have a typical dive bezel as it is not a dive watch, so it is saving space there.
Overall, the case exudes build quality. It's a rock. It's unwaveringly solid. While I don't intentionally smack my watch into things, I have no fear that the S.A.R. can take it. As far as finishing goes, there really isn't much to talk about as it's just matte, but the mix of metal and rubber is unique and appealing unto itself.
Dial
Mühle is all about precision and function, which is very apparent in the design of the S.A.R. Rescue-Timer's dial. Legibility is the most important element, so every decision was made to reinforce this. As such, the dial is simple, technical and without unnecessary elements. The dial consists of a few indexes on a matte black surface. The primary index is composed of large triangles at 3, 6, 9 and 12, each flanked by a small square, and smaller rectangles for the other hours. The 3, 6 and 9 triangles point in towards the center of the dial, while the 12 triangle points up, with small dots on either side of its tip. I believe they drew inspiration from classic Flieger watch design here, which had special emphasis on the 12 marker to quickly distinguish it from other elements on the dial.
Between each marker are white lines for minute or second reference. To aid a quick and precise read of the minutes, on the inner surface of each of the large square rectangles is a double-digit numeral in white. Though small and easy to ignore, they are helpful for at-a-glance reading of the time. They also add a gauge like quality to the dial. Text on the dial is limited to a Mühle logo under 12, which is actually pretty wordy, and 1000m above 6. I believe on newer models of the watch it says 100atm instead, referring to pressure rather than depth.
At 4 is a circular date window through which the black on white date is visible. As I mentioned before, the watch features an internally ground cyclops for emphasizing the date and making it more easy to read. While it's not a massive amount of magnification, likely 1.5x, it does noticeably increase the size of the date. The implementation of the cyclops is really slick, adding function while also being discreet and unobtrusive.
The hands of the S.A.R. are straightforward as well, with polished steel fence posts for the hour and minutes, and a long steel stick with a slightly oversized arrow tip for seconds. All of the hands and the main index feature light green colored lume. I'm not sure what they do when they apply it, but you can see that the markers on the dial are slightly elevated from the layering of Super LumiNova. The end result is some incredibly strong lume that charges quickly and lasts a long time. This is one of those watches that seems to always be glowing.
The function driven aesthetic of the dial is very sober, clean and technical, but is nevertheless attractive. I see references to classic Flieger watches as well as vintage dive watches, such as the Eterna KonTiki. So, it's not without certain elements of charm. The incredible legibility of it, while not looking like it's meant for the visually impaired, is enjoyable, as one can genuinely read the time very quickly with it. Often at this price range one might expect to see more texturing, finishing and depth on a dial, but that would betray the intention of the watch.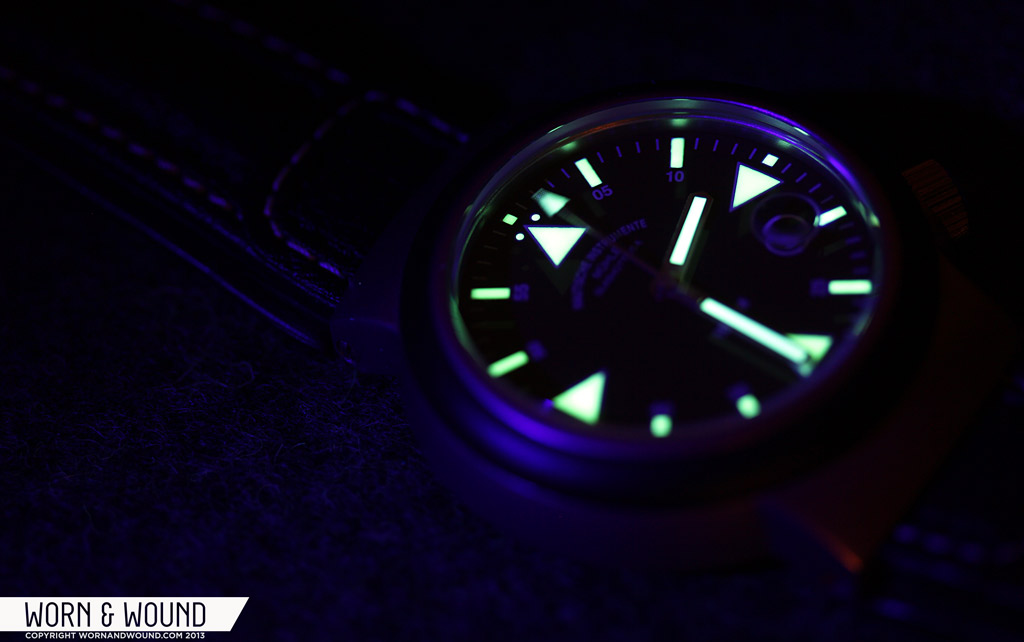 Movement: SW200-1 Mühle Version
The most current iteration of the S.A.R. has a Mühle customized Selitta SW200-1 automatic movement. The SW200-1 features 26-jewels, hacking seconds, hand winding, date, 38hr power reserve and a frequency of 28,800 bph. It's often used now as a replacement for the once more available ETA 2824-2, but is in no way a lesser product. And in the case of Mühle, has been given a unique fine-tuning that sets their watches apart.
Mühle doesn't just order top grade movements, pop them in a watch and call it a day. Instead, they take the movement, completely disassemble it and rebuild it to their specs. This includes installing blued screws that they themselves make, which helps protect against corrosion, a unique rhodanized Mühle Rotor, and decoration through out. Perhaps the most functionally significant addition is that they swap in their own, patented "Woodpecker" neck regulation and balance cock.
This is essentially the system by which the movement accuracy is finely tuned, so if a shock jars it, it can affect the timekeeping of the watch. Their system is designed to have greater shock resistance than the standard parts by preventing vertical motion of these pieces. Lastly, they regulate the movement in 6 positions to make sure the watch is keeping great time. I recommend reading their technology section for a greater sense of what they do to make their watches special.
As mentioned in the intro, this isn't an inexpensive watch, but the labor and attention to detail described by their customization of the SW200 really does begin to justify the cost. Though on the S.A.R. one can't see the movement, knowing it's better than average and essentially unique to the brand adds to the enjoyment of the watch.
Straps and Wearability
There are two strap options at purchase of the S.A.R. Rescue-Timer, a rubber strap and a bracelet for $100 difference. The version I acquired had the rubber strap, though had I bought the watch new, I likely would have gone for the bracelet. Regardless, the rubber strap is very well made and substantial. It's a molded rubber with interesting contours that add something sporty and aggressive to the overall design. The shape continues the flow of the case, creating a streamlined form. The strap is secured by a steel deployment clasp that also features a built in diver-extension. Overall, the quality is very good, my one critique being that since it's the type or strap one cuts to size it might not always fit. In my case, I purchased the watch off of someone with slightly thinner wrists, thus making the strap too tight. The clasp also is a bit generic, and could have been built to match the case a bit more.
Do to the lug design of the watch, putting just any 20mm strap on it wont quite look right. They will fit, but the rubber strap, and I image the end link of the bracelet, widen to 25.5mm to meet the sides of the lugs. Luckily, I found a leather strap that does a similar thing, the Di-Modell Chronissimo. Also made in Germany, the Chronissimo had a pilot style that has the strange detail of having leather "wings" that make the strap wider than the lug width. This makes it fit into the S.A.R.'s lugs more smoothly. The strap is also quite thick, which helps in the same way. The black leather and white stitching work very well with the dial and rubber bezel design, perhaps dressing things up a bit. That said, it's also very purposeful looking and like it was built to withstand extreme circumstances.
On the wrist, the S.A.R. wears very nicely. It's a nimble watch given how rugged it is thanks to smart design. The curving of the case, the 13.5mm height and off center crown all contribute to making it very wearable. The 42 x 49mm case is a nice size for a watch like this, and it actually wears a bit smaller than that do to the conical shape of the case. It's quite easy to forget that this watch is meant for such extreme circumstances and can go down 1000m. Also, given that it has a bumper and such a tough build, it's designed smartly to not have anything sticking out that might snag or smack into something.
As far as style goes, I find the S.A.R. to be similar to wearing a pilot's watch. It's sporty but clean and subtle, so it can work in many situations. With the optional bracelet, I imagine it would be even more versatile. At it's heart it's a sporty/tool watch, but it doesn't seem overly masculine or under designed.
Conclusion
Well, there clearly is/was a lot to say about this watch, and for good reason. So many brands strive so hard with marketing, adding bells and whistles to their watches to make them seem tougher, but the Mühle S.A.R. Rescue-Timer just is that tough, and doesn't need to flaunt it. This likely is because it was created for a need not a desire. Mühle doesn't need additional marketing, because they already have the perfect ambassadors for the watch, the S.A.R. teams that wanted it in the first place. From the inside to the out, the S.A.R. has been built well above and beyond the needs of a normal consumer, which in turn makes sure the watch will last you a long time.
While the S.A.R. does cost a pretty penny at $2,390 or $2,490, the money clearly is going where it should, which is to say into the making of the watch. Besides the screw-bars and maybe one or two other things, nothing is stock and nothing has been sacrificed. I mean, they even install their own components into the movement…that's rare. Let's also not forget that the watch is made in Glashütte, which while not as big of a premium adder as Swiss Made, does add to the cost. But, I think of that more the way I think of Made in America, for Glashütte, it's about supporting local business, and I can always get behind that.
by Zach Weiss