Imagine yourself standing on a dock at night. There's a wintery chill in the air — you've got a toasty navy peacoat on and a thick rag-wool hat keeping you warm. Some duck canvas pants and a solid pair of waterproof boots are keeping your lower half from going numb. You're waiting for that ship to come into port, and have a hunch that it's running late. To confirm your suspicion, you look down at your wrist, and read the time off of your trusty Doxa Sub 200.
Even though I'm sitting at a desk in my temperature-controlled office, that's the scenario in which I imagine this timeless, vintage-inspired dive watch from Doxa. Well, the black dial at least. If you're more of an orange, yellow, or turquoise kind of person, then your hypothetical Doxa Sub 200 situation may have more cocktails on the beach, coconut trees, pristine clear water, and ninety degree temperatures than the situation above. Either way, if you're looking into the Doxa Sub 200 as your next pick up, you're in for a treat.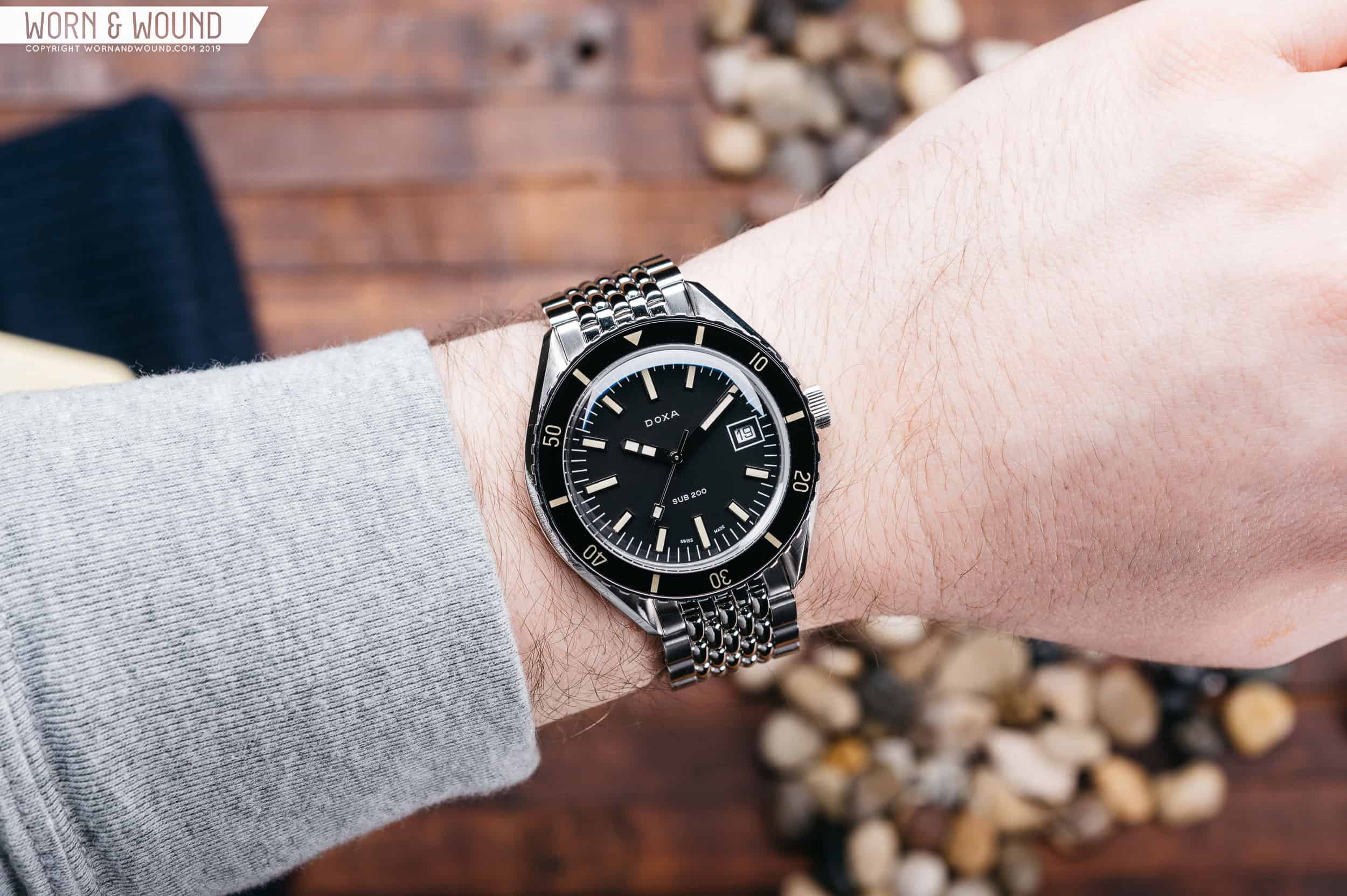 Announced at Basel 2019, the Sub 200 is Doxa's "entry-level" dive watch. Coming in at just under a grand on a bracelet, the Sub 200 makes an excellent case for those (like me) to look a little harder at Doxa. While I appreciate a good Sub 300T, they've just never spoke to me personally. It's hard to not respect the brand with their strong pedigree in the world of professional diving, but nothing jumped out at me until the Sub 200. It boasts a very comfortable 42mm case, a stunning black dial topped by a gorgeous domed sapphire, and loads of vintage-inspired design that results in what I believe is one of the hottest watches in the sub-$1000 category at the moment. Let's take a closer look.